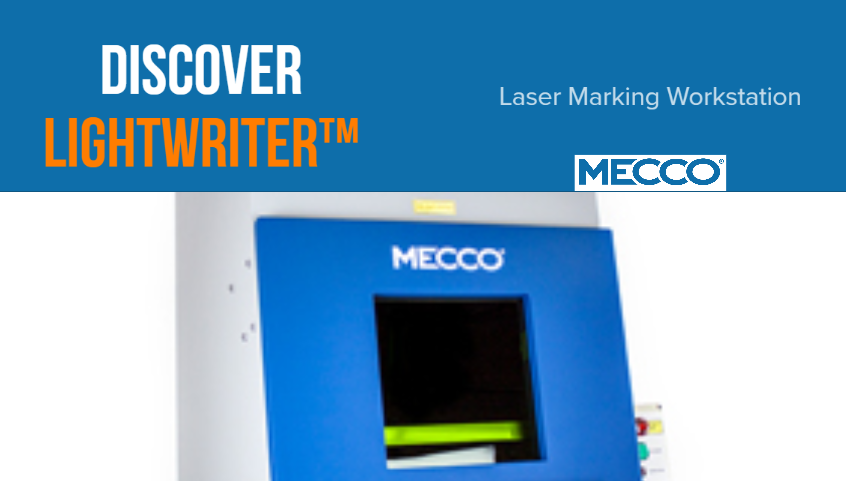 MECCO Expands Product Offering with Affordable LightWriter™ Laser Marking Workstation

An innovative desktoptop laser marking system with a streamlined design for easy, economical laser marking
MECCO, a leader in developing innovative laser and dot peen solutions for permanent marking and traceability for over 130 years, has expanded its product line with a new laser marker that provides manufacturers with a powerful, economical laser marking solution.
The
LightWriter™ By MECCO
 is an all-in-one solution that includes a powerful 20W Fiber Laser marking machine and Class 1 compact enclosure. This versatile system allows manufacturers of any size to engrave a wide variety of materials. Lightwriter is available for order and competitively priced at $19,900.
"With over 15 years of experience developing and building successful laser marking systems, MECCO is excited to introduce a ready-made workstation," remarked MECCO president Dave Sweet. "LightWriter is an affordable solution for companies looking for an entry-level or low-volume laser system that still delivers the highest quality and performance they expect from MECCO's industrial laser marking machines."
LightWriter is engineered with MOPA (Master Oscillator Power Amplifier) fiber laser technology. This allows users to adjust laser parameters, providing greater flexibility to mark or engrave a variety of materials, including steel, titanium, aluminum, copper, ceramics, and most plastics.  
What types of customer service does MECCO offer for LightWriter?
LightWriter customers also receive MECCO's industry-leading service and 
support
, including a two-year equipment warranty. Live technical support, free sample marking, and operator training and onsite setup are some of the additional benefits that help customers increase uptime and maximize their system value.  
Manufacturers find added long-term cost savings with no consumables, minimal maintenance, and over 100,000 hours MTBF, making this workstation a smart investment for any company that needs an industrial-quality laser marker with a budget-friendly price tag.
This product is the latest in a growing line of high-quality laser marking solutions to meet the evolving needs of today's manufacturers. In October, 2019, MECCO announced the
SMARTmark™ Green Laser Marking Machine
to enhance a product line that includes the
Fiber
,
Tiburon
, and
CO2 Laser Marking Machines
in addition to our patented
EtherMark®
software and
SafetySeal
enclosure.
Order your
LightWriter
 and discover more specifications and features of this new innovation.   
##
About MECCO:
Established in Pittsburgh, Pa. in 1889, MECCO is recognized as a leader in industrial product marking and identification systems. MECCO's wide range of innovative laser and dot peen marking solutions, from modular marking systems to fully integrated turnkey traceability solutions. MECCO's technical expertise enables manufacturers to increase quality, performance, and profitability. Through The MECCO Experience, customer relationships are paramount, providing the long-term solutions that enable our customers to succeed.