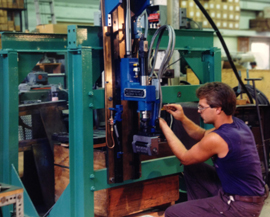 The 1980s and 1990s saw an evolution of dot marking technology, with the Bloom Marker and Dot-A-Mark systems for various steel mill applications. In the wake of the steel industry decline, MECCO introduced commercial designs of the Dot-A-Mark.
In 1991, we were granted a patent for indenting a bar code into the surface of an object.
The development of dot matrix systems in 1991 included the X-Y operating systems which allowed for portable machine application, adaptation to manufacturing cells, and a variety of mounting procedures.
By 1992, a strategic partnership with Couth provided an important addition to the multi-pin Dot-A-Mark systems – single pin marking. Their MC-2000, a single pin, computer-operated marking system, was made available in North America through MECCO's exclusive distributor rights for all Couth products.
Two years later, we partnered with Sensis Corporation to automatically scan and read Bumpy Bar Codes. The companies worked together to develop markets for this system, leading to installations at companies like John Deere, Caterpillar, and Cummins Engine.