Right now, manufacturing technology is driving change. You need more than equipment that works. You need a system designed to work for your business, with the experts who know how to get you there. That's only possible when your supplier digs deeper to genuinely understand your goals and your business. We call it The MECCO Experience.

What is "The MECCO Experience?"
At MECCO, we are powered by one word: innovation. We believe that in order to deliver the very best in industrial product marking and identification systems, we must provide relationships and solutions that are grounded in innovation.

How do we do it? It begins with our culture, one that is built around honest communication, win-win scenarios and designing success. It comes to life through our quality built equipment, responsiveness to your needs, and turnkey marking systems that can't be beat.

Experience the difference of partnering with a team that values your business and works tirelessly to find the solution that's right for you.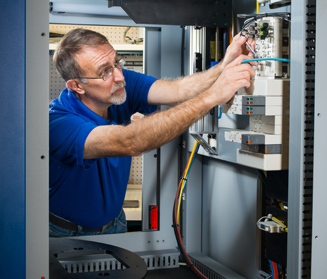 Your business isn't one-size-fits-all. And neither is your marking solution.
Our goal is simple: to provide not only the best products but to deliver an exceptional customer experience with a team of certified experts who revolve around your needs.
As a result, you can expect successful marking solutions that align with your evolving business goals—we guarantee it.
Our Process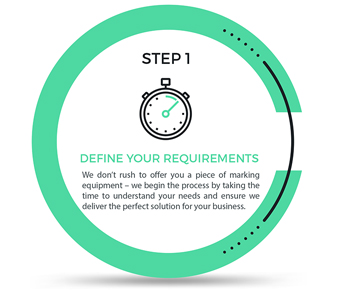 Step 1: Define Your Requirements
We don't rush to offer you a piece of marking equipment – whether you work with our Inside Sales Engineers and Field Specialists or a MECCO-certified partner, we begin the process by taking the time to understand your needs, your budget, your bottom-line goals and ensure we deliver the perfect solution for your business.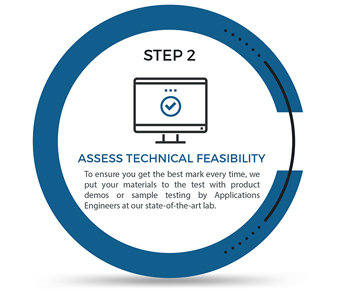 Step 2: Assess Technical Feasibility
To ensure you get the best mark every time, we put your materials to the test with product demos or sample testing by Applications Engineers at our state-of-the-art lab.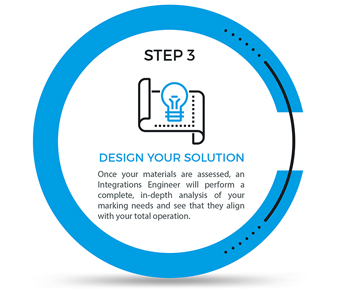 Step 3: Design a Custom Solution
Once your materials are assessed, an Integration Engineer will perform a complete, in-depth analysis of your marking needs and see that they align with your total operation.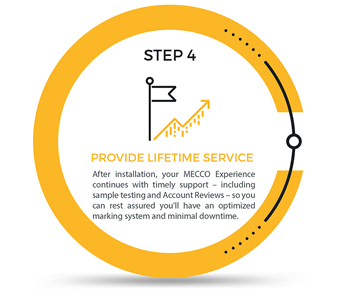 Step 4: Provide Lifetime Service
After installation, your MECCO Experience continues with timely service and support – including free sample marking and regular Account Reviews – so you can rest assured you'll have an optimized marking system and minimal downtime.
Across the board, our clients and partners tell us that we stand out from the pack because we understand their needs, and translate those needs into solutions that yield success.