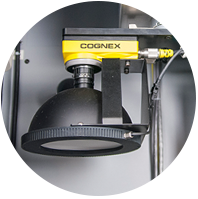 Turnkey solutions can be outfitted with a variety of vision integrations to accomplish automated inspections.
Additing vision capabilities to your SMARTmark Laser is a vital part of traceability and quality control for your parts. It enables tracking, sorting, and identifying through part, prientation & marking area recognition, mark grading, and defect detection.
With a great amount of flexibility in how the options can be customized per project, verification and data collection can be used to improve your processes by connecting with your database.