Series Connection

The T2 communications protocol makes it possible to manage the entire marking process of several marking units simultaneously from a PC or PLC.
This is a robust, 100% reliable communications protocol featuring a large set of commands that permit changing any of the controller's general parameters as well as the marking parameters.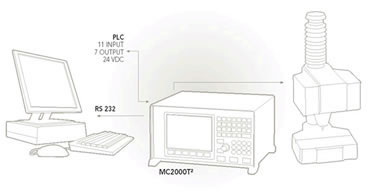 Digital Input & Output Connection
Manage the entire marking process from an automated PLC with a set of 11 input and 7 output digital signals as well as 3 timers.
In addition to fixed meaning signals (error, pause, ready, reset, and binary marking), the programmable inputs and outputs in combination with the timers give users an option to control various external electromechanical devices or to create simple automatisms.