Factors to Consider when Selecting Laser vs. Pin Marking
Environment: Clean room vs dirt & debris
Temperature When Marked: Standard temperature vs high heat
Surface Quality of Part Being Marked: Machined vs Cast Parts and Dry vs Oil
Materials Being Marked: Metals, Plastics, Cardboard, Etc.
Life Expectancy of the Part
Space & Location of Barcode
Connectivity to the Factory Floor: Standalone System or Full Integration?
Once you have your marking criteria specified, explore the benefits that each piece of equipment offers.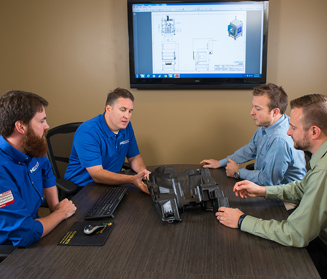 How to Choose a Marking Method
Determining the best equipment, application & software
MECCO works with our
customers
to determine the best equipment, the best application, and the best software. We want to make sure that the products we provide are the right fit for your application in order to save time, money and frustration.
If you have questions about choosing dot peen or laser marking for your project,
contact us
today. We'll be happy to guide you through to the
best solution
for your needs. Whether you have a basic marking project or sophisticated application requirements, MECCO brings our
130+ years
of experience in part identification to deliver everything from standard units to full turnkey solutions.