Comparing Permanent Marking Technologies
Laser marking and pin marking are both direct part marking methods that manufacturers use to create permanent identifiers on products. The key difference between laser marking and pin marking is how the marks are made: laser marking is a permanent process that uses a beam of concentrated light to create a lasting mark on a surface, while pin marking (or dot peen marking) uses a carbide pin to indent the marking surface.
Typically, we recommend laser marking when customers need a smooth or intricate mark for a wide variety of materials, including plastics, metals, and softer materials like wood. Pin marking, alternatively, excels at creating deep engravings in hard materials, even after painting or galvanizing.
Learn more about:
Laser marking applications
Pin marking applications
Read on for more inforamtion on why you should laser mark or pin mark your parts, comparisons between these typers of marking methods, factors to consider when selecting a part marking method, and how to choose a part marking method.
Types of Marking: Why Choose Laser Engraving or Pin Marking
Today more than ever, manufactureres need to track parts throughout the
manufacturing process
or add branding and/or
traceability
to comply with industry standards. These processes help companies reduce waste as well as the risk of counterfeiting and mass recalls because they provide valuable insights on each part, from production to end-user and beyond.
Permanent part marking ensures your part marks -- whether barcodes, serialization, graphics, or other critical product information -- are more readable and longer lasting than other marking applications. MECCO specializes in two complete lines of direct part marking technologies:
laser marking
and
pin marking
. Compared to alternative types of marking like printing and labels, direct part making has key advantages:
Permanence: Stickers fall off and ink fades, but when you use laser marking or pin marking, you have a permanent mark that will stand the test of time, withstanding harsh environments and years of regular use.
Speed: Laser and pin marking machines mark quickly, so you can mark more parts in less time with less waste.
Flexibility: Mark virtually any material, from metals to plastics to wood and select from a number of machine configurations, such as standalone, integrated, or handheld.
Minimal maintenance: Avoid downtime associated with unclogging a printer or fetching more labels.
Higher ROI: With fewer consumables and greater efficiency, most companies find that permanent marking pays for itself.
Factors to Consider when Selecting Laser Marking vs. Pin Marking
While we do offer general guidelines for selecting laser and pin marking methods to help give a sense of direction, the best answer isn't always straightforward. It's important to first consider the material, environment, and other key factorys before identifying the proper tool.
Materials Being Marked: Are you marking organic (like wood or cardboard) or nonorganic materials (like metal, plastic, or glass)?
Environment: Is the room clean or full of dirt or debris?
Temperature When Marked: Are you working with standard temperature vs. high heat?
Surface Quality of Part: Are your parts machined or cast? Is there oil present?
Life Expectancy of Part: How long is the part intended for use?
Space & Location of Barcode: Do you require overt or covert marks?
Connectivity to the Factory Floor: Does your process require a standalone system or full integration?
Once you have your marking criteria specified, explore the benefits that each piece of equipment offers.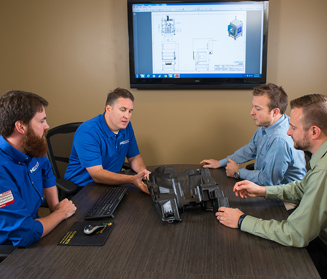 How to Choose a Permanent Marking Method
Selecting a permanent marking method can be a daunting task. Your company is looking to you to make a decision, and you need to make the right one.
We can help. MECCO works with our customers to determine the best equipment, the best application, and the best software for your operation. We want to make sure that the products we provide are the right fit for your application to save time, money, and frustration, and our many
success stories
show it.
If you have questions about choosing dot peen or laser marking for your project,
contact us
today. We'll be happy to guide you through to the
best solution
for your needs. Whether you have a basic marking project or sophisticated application requirements, MECCO brings our
130+ years
of experience in part identification to deliver everything from standard units to full turnkey solutions.