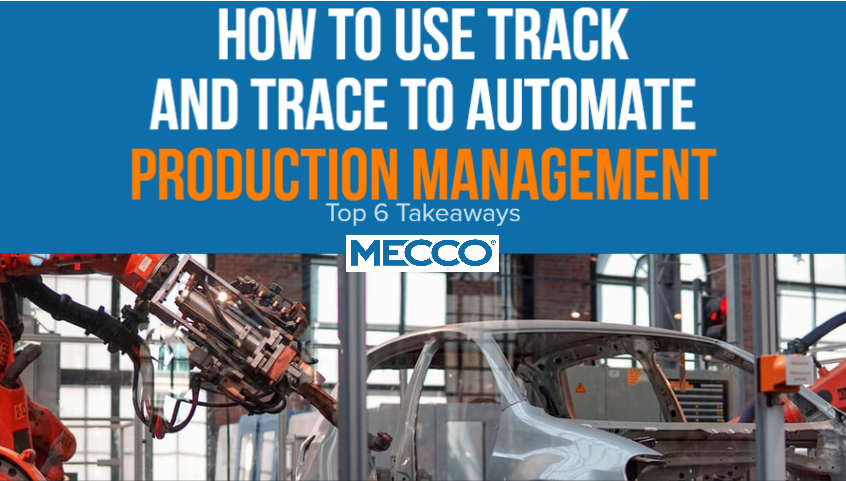 We've rounded up some of the top insights from the 2019 Automation Fair session "Automating Production Management with Track and Trace."
From quality control and error proofing to compliance and anti-counterfeiting, track and trace technology within the automated production line has become a competitive advantage for manufacturers.
Advances in traceability automation have allowed companies to create a virtual roadmap, following products and components from manufacturer to consumer and back while tracking data throughout its lifecycle.
But, this process doesn't always go on without a hitch. When items aren't
properly marked
, the right information isn't communicated. Holes in communication cause downtime and other inefficiencies that impact your processes and bottom line.
On top of that, some manufacturing companies still rely on traditional strategies to manage production. Manual record keeping and lack of valuable data are holding many companies back in an era when digital technology is the center of an industry revolution.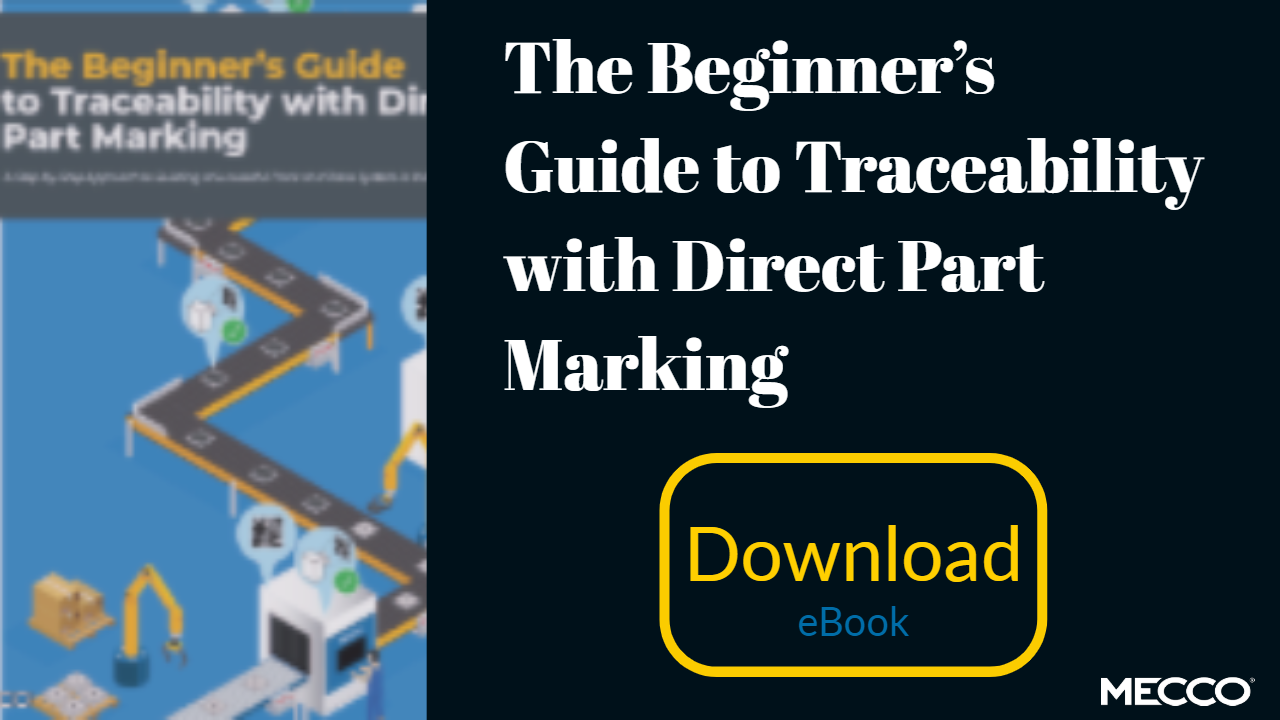 The presenters of this session have in-depth industry experience with technology, communication, and data analysis. Dave Sweet, our President here at MECCO, has been an engineer for over 30 years, about 15 of which he's spent
building our technological capabilities and expertise in smart marking and traceability solutions
. James DeBano is a Senior Engineer in the Information Solutions group of
Rockwell Automation
. He designs and implements track and trace software solutions for manufacturers, bolstered by his experience with software engineering and data analytics.
These two pros joined forces to present a solution that combines equipment and software engineering to give manufacturers an answer to the question: How can my plant succeed with track and trace technology?
Here are the top six lessons to take away from this enlightening session.
Top Lessons for Automating Production Management with Track and Trace
It's time to write off handwritten record keeping (and other old-school processes).


It happens every day. A mistake in the manufacturing process has led to defective products because the company didn't have an effective error-proofing system. The defective part is delivered to a customer, causing rework, recalls, or a damaged reputation.

How did this happen?

Perhaps, as Dave pointed out, there wasn't an adequate process to record the defect in a database. Rather, someone in production stuck a handwritten note reading "Defective Part" and called it a day. The note inevitably fell off and those parts ended up in the customer's warehouse.

"Now we have a real problem. Why did that product get shipped to the customer? And really, what's the defect of that part? Is that a safety concern? This is a big deal."

As Dave explained, for many manufacturers, mitigating adverse events like this can spark a desperate search for a traceability solution. After the dust settles, they count their losses and begin searching for a better way to mark and track parts.

Of course, error proofing isn't the only challenge manufacturers face. As markets and supply chains grow more complex, recalls and counterfeiting risks are on the rise. They disrupt your business, challenge your processes, increase downtime, and put you to the test to be a high quality, world-class manufacturer.


The solution is track and trace within the Connected Enterprise – creating smarter manufacturing to make better, faster decisions.



The solution, Dave said, is track and trace within the Connected Enterprise – creating smarter manufacturing to make better, faster decisions.


When it comes to identification and traceability, barcodes are only the beginning.


Parts can be identified and tracked in a number of ways. Your first decision is what information to include, whether it's lot number, manufacturing date, or the like.

Your next decision is how to mark that information on the part. Should you use labels or a direct part marking machine such as a laser or pin marking equipment? Will it be human readable or machine readable?

For successful IIoT traceability, serialization is mission-critical. The mark is a "license plate" that connects the part to a database where all the details reside. A machine-readable 1D linear barcode or 2D Data Matrix code is the best way to display it because barcodes provide better readability – at the point of origin, at every single point throughout your process, and for the lifetime of that part . And, barcodes can accommodate more information.

So, now you're marking data in the form of a 1D or 2D barcode on your parts. You may even use machine vision to read that data and verify your marks. Many manufacturers think they can stop there. After all, if the part comes back, you can track it to see when it was produced.

But, here's why you shouldn't stop there.

Smarter manufacturing opportunities arise from marking at strategic points throughout your process and connecting that barcode to your enterprise. This is when you can truly revolutionize your business.

"The future of manufacturing is more and more about people actually utilizing track and trace, not only through your process or out in the field and then back, but also within a Connected Enterprise," Dave said. "Traceability is a process."


2D barcodes are the better choice for more robust data.


Browse through any supermarket, and you see 1D barcodes on almost every product. They work well when you only need to display a limited number of characters. However, as you add characters, that code has to get longer and longer to integrate those character sets within that code.

That might be sufficient for a loaf of bread, but for manufacturers who want to capture even more valuable data, 1D just won't do.

"Over the last 10 to 15 years, companies have migrated toward 2D codes. Unlike a 1D barcode, you can embed a significant amount of information in the 2D barcode within very limited amount of space."

There are two main types of 2D codes. A 2D Data Matrix holds about 2,335 alphanumeric characters, and a 2D Quick Read (QR) code can hold around 4,296 characters.

One of the biggest benefits of 2D codes for manufacturers is redundancy. If you damage that code, you'll still be able to read it. When any part of a 1D barcode is destroyed, it's unreadable, and all that information is lost.

What type of information should you include in your 2D barcode? Dave recommends coding only the most critical information. In other words, "you don't need to put a whole book in the mark. There are some limitations there."

The ability to include more robust data is vital when it comes to complying with certain industry standards and regulations. We see permanent 2D codes widely used in industries like medical device and automotive. For instance, under the FDA Unique Device Identification (UDI) regulation, a GS1 Data Matrix can encode all needed information on even the smallest devices.


Take a more long-term approach to part marking for better ROI.


In uncertain times and hyper competitive markets, it's tempting to opt for a cheaper up-front solution to track your parts. But, when you look ahead at the next five, 10, or 15 years, you may want to consider and how these two factors influence your equipment investment:


Permanent vs. non-permanent


When it comes to part marking, there are two main schools of thought – permanent and non-permanent. Permanent marking methods such as direct part marking (DPM) with a laser or pin marking machine involve making characters, part numbers, logos, graphics, or barcodes directly on the part's surface. This type of mark is permanent.

(Here's a free download to help you understand how to choose the right marking technology for your application and material).

Permanent marks are essential to lifetime traceability. In the case of, say, a product recall, parts would need to be traced back to the original manufacturer. That's why, many manufacturing regulations require companies to use permanent barcodes.

Non-permanent marking methods include inks, tags, and labels. Keep in mind, however, that they often can't handle the usual wear and tear, especially in harsh environments like the oil and gas industry.


Hidden expenses


While labels or ink can seem like the more cost effective route over DPM, dollars begin to add up when you look at the fine print.

For one, when that label falls off, it costs you company time and money to remark parts. Downtime is also a challenge when cleaning or unclogging a printer.

Consumables are another major cost for ink or labels, up to $0.07 – $0.09 per mark. High volume manufacturers can greatly reduce costs with permanent marking methods such as laser marking, which only costs $0.02 per mark.

Today, laser marking also requires less replacement parts. Dave explained that "15 years ago you would have to change a light bulb in the old flash lamp lasers. Now it's all diode based systems. So you're talking hundreds of thousands of hours before those need to be replaced."

When you look at the long-term numbers, a DPM system is usually the most cost effective and can help you bring your processes into Industry 4.0.


Make sure your marks get a passing grade.


Did you know that many industry regulatory agencies have instituted mark grading scales?

When it comes to traceability marks, quality really does count. Readable marks ensure successful tracking through the manufacturing process and supply chain and tracking back to its origins. The critical data contained in your mark is worthless if the mark isn't readable, scanable, and traceable.

That's why, once you know what marking method you're using, the next step is reading and verifying those marks.

This video shows how the reading and verification system works.



The robotic arm moves a part to be marked on one side by a fiber laser marker. Then, it rotates the part allowing a dot peen marker to mark the other side before moving the part in front of a camera for reading and verification. This process can be seen on the laptop computer as the marks receive a pass or fail grade.

"A passing or failing grade is particularly important in the automotive and medical device industries," said Dave. "We want a nice contrast so that code can be read, which is why we're seeing a lot of manufacturers laser marking 2D barcodes because that allows them to get this high quality mark."


There are easier solutions to connect OT and IT for information-rich manufacturing data.


Once you can successfully read and verify parts, it's time to take that process through its completion. That means tracking and tracing that information through our manufacturing process.

But, wait. Isn't that a huge and expensive undertaking?

As James explains, the answer is no. "The Next Generation Track and Trace (NGT2) Solution connects a plant's operations to the enterprise information. We're able to bridge that gap between OT and IT just by using standard Rockwell Automation and Microsoft software."

According to Rockwell Automation, the NGT2 solution is "an automated track and trace system that is scalable to your needs and helps meet productivity goals." This solution (essentially a prebuilt solution on top of existing Microsoft and Rockwell technologies) works by connecting plant floor equipment to the SQL server database. This database houses all the business logic of the track and trace technology.

Then, you can access that information in the database in a number of ways.




So for example, API servers (right side of graphic) are the standard way to interface with your track and trace data. "You can view the status of everything in production," James said. "You can look things up by serial number and get your production data from it. You can run reports that have been produced at a machine, at a cell, at a plant, at a site. You can do all the configuration of your track and trace, your recipes, your error proofing, and your tracking parameters."

Manufacturers can also use NGT2 to analyze data or perform machine learning. These capabilities are priceless in Industry 4.0 where technology is the ticket to compete and data is king. In fact, McKinsey Global Institute reports that almost 70 percent of manufacturing decision makers believe that industrial analytics are crucial for business success in 2020.

How does this software turn your business into a traceability powerhouse?

When your part is marked with a barcode, that barcode will be read directly into a PLC and into a database. From the database, you can pull actionable information. What is the material code for this part? Is this part good or was it rejected at some point in the process and needs to be quarantined? Is there a lot recall affecting this part?

"All of that can be done instantly right in the PLC," James explained. "As soon as the barcode is read, all that logic is performing in that transactional database. Also, all of the production data is recorded, so you are not only reading into tracking data like equipment, timestamp, or operator, but you're also reporting any production data that you would like to capture. Press force, torque values, durations, and temperature can all be associated with individual serialized parts."

The NGT2 solution can also be implemented across multiple plants. Since data is collected at the PLC level and put into a transactional database, it can be propagated down to each individual site. The reporting database is in the enterprise as well, so it can be used as a main hub for long-term data storage. Using a centralized configuration database production recipes are shared with each site for improved consistency and quality control.




Real-Life Example of a Connected Track and Trace System


If this seems like a lot of information,don't be intimidated. The experts at MECCO and our partners at Rockwell Automation make sure everything runs smoothly.

Here's one example that can help put it into perspective:


The Challenge: Increase quality


The ability to quarantine defective parts is a major benefit for any manufacturer who cares about quality. One large automotive supplier was marking human-readable information onto their parts. They began to struggle when parts were receiving failing grades as they were read throughout the manufacturing process.

The company needed to increase their mark read rates from 70 percent to 97 percent or higher. They also had to be able to quarantine items that failed. To achieve their goals, the company needed a higher contrast mark that could be properly read and verified throughout their production process.

The catch was that they didn't want to implement a complete, plant-wide track and trace system right away. Rather, they needed to deploy in strategic increments.


The Solution: Connected track and trace system


Working with MECCO, the company opted for a smart laser marking system that would mark a 2D Data Matrix containing a serial number. That unique code connected to their enterprise through Ethernet/IP, enabling them to collect data on each part and ensure only "good" parts were delivered.

"MECCO focused on making sure they had a robust, readable barcode that then could be read throughout the process," Dave said. "Then, James and his team started to work with that manufacturer to expand it across the plant. If there's one reason why this particular customer went in this direction, it was incremental deployment."

With their marking system connected to a database thanks to the NGT2 solution, the company gained automated error proofing capabilities. By scanning a 2D barcode, they can determine if a car passes or fails with accurate efficiency.


The Results: Efficient quarantine process


With this phased system, the automotive company reduced the number of quarantined items by 84 percent. Their new track and trace system allows them to pinpoint which vehicles are effected. Without the hassle of paperwork, the company also saw a reduction in the time spent dealing with these quarantine backers from 3,674 hours to only 315, or an 86 percent drop in man-hours.



"I think a lot of times when people look at track and trace, they go wow, it's a huge, huge undertaking. And at times, it can be a bit overwhelming. But you can do it incrementally."


How Can You Control Your Production Line More Efficiently?


If there's one key takeaway from this Automation Fair technical session, it's this:

To capture the manufacturing data and analytics to make more informed business decisions, you need a connected DPM system. This system can be implemented more easily in a phased approach.

If you made it to the Windy City for this show, we hope you were able to bring back useful tips for your team. MECCO is a member of the Rockwell Automation PartnerNetwork™, so we're uniquely positioned to solve your toughest traceability challenges with the connected factory in mind. Our innovative marking technology coupled with Rockwell Automation's NGT2 solution means that manufacturing traceability is within grasp for companies of any size.

To learn more, get in touch with our experts. We can recommend a phased track and trace solution based on your specific requirements.