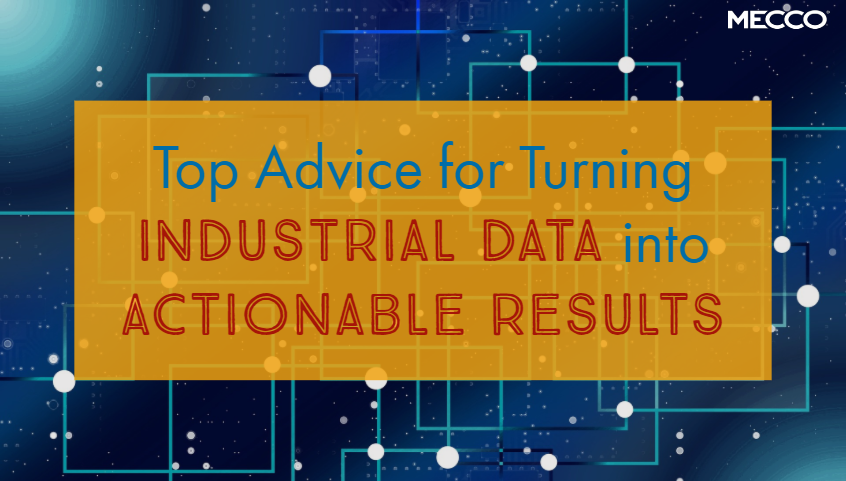 If your manufacturing company is one of the many collecting industrial data today (that's around 90 percent of companies, according to GrayMatter), you're aware of the positive business outcomes it can provide. From better supply chain management to greater quality control, Overall Equipment Effectiveness (OEE), and waste reduction, industrial data holds endless opportunities.
Yet, if you're like most companies, manufacturing data
collection
isn't always the hard part.
It's being able to
analyze
and
use
that data that may be holding you back. When experts talk about industrial data and industrial analytics, they typically mean taking that (compounding) pile of raw data, evaluating it, and extracting actionable insights that inform decisions and drive continuous improvement.
So, if you're wondering, "How do you measure manufacturing productivity?" or "How do you calculate manufacturing efficiency of a plant?" you should know that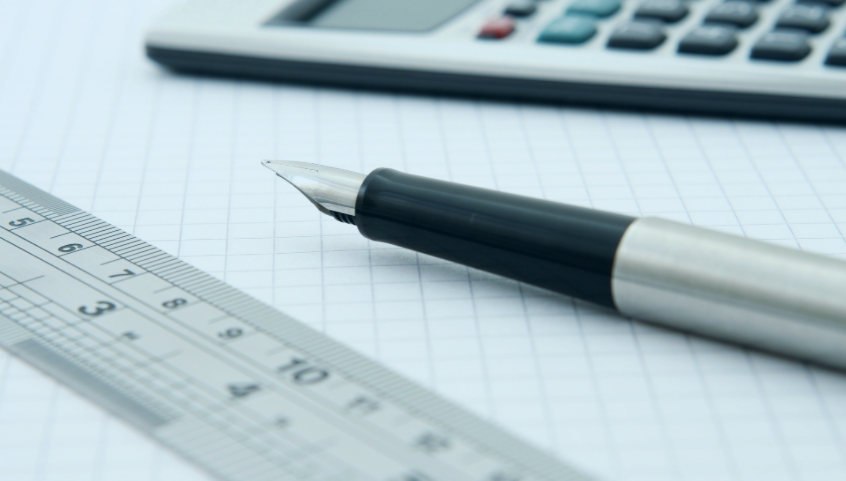 data creates opportunities both inside and outside your factory. In fact, you can use smart data to enhance critical processes throughout your entire supply chain.
And what happens when you take that data collection process and apply it to a connected traceability system that uses permanent direct part marking?
Those opportunities multiply.
Let's talk about how marking and traceability can deliver more data and more intelligent decision making in modern factories and how today's thought-leaders are using that data to enhance their business.
How can Traceability Help You Make the Most of Industry 4.0 Data Analytics?
In this connected age commonly known as Industry 4.0 (or Manufacturing 4.0, or the Fourth Industrial Revolution, etc.), more and more leading manufacturers are adopting "smart" technologies – including marking and traceability systems. To put it simply, these technologies use the Industrial Internet of Things (IIoT) to capture, connect, analyze, and utilize plant floor data.
According to McKinsey Global Institute, almost 70 percent of manufacturing decision makers believe that
industrial analytics will be crucial for business success
by 2020. In fact, 15 percent say it's already crucial today.
By adding equipment that creates a permanent identifying mark on every part, and then integrating that equipment – and the data contained in every mark – with traceability software, you can create a complete track and trace system, one that repays you in dividends with data.
Imagine having the complete genealogy of a part at your fingertips and being able to pinpoint where bottlenecks or defects occur. You could improve efficiency, productivity, and your ability to authenticate products.
And it's all done in real time.
Benefits of a Connected Track and Trace System
Improved production efficiency
Consistent mark accuracy
Enhanced errorproofing and quality
Better containment and inventory control
Improved ability to confirm part authenticity
Real-time data for better decision making
Enhanced supply chain management
Faster time to market / reduced lead times
Utilizing the latest technologies like
laser marking software
also keeps you at the top of your competitive game as more manufacturing companies use industrial analytics.
How the connected traceability system works:
Uses direct part marking to mark units with a unique identifier – marks are permanent and highly readable, even in the smallest, most discrete areas
Integrates part marking machines with traceability software that communicates directly with a PLC using EtherNet/IP™
Stores critical part information, such as part number, date code, and lot code, in an on-premise or cloud-based database
Tracks each part through the production line and traces parts back to their original source
Enables manufacturers to make more informed decisions in real time to improve short- and long-term performance

How are the Industry's Leaders Leveraging Data?
If your company is still on the journey to IIoT-enabled traceability, you're not alone. Across the industry, most manufacturers are still in the early adoption phase for Industry 4.0 technologies.

Thankfully, industry though-leaders have been blazing the trail, using smart data to successfully drive impactful business decisions.


By adding equipment that creates a permanent identifying mark on every part, and then integrating that equipment – and the data contained in every mark – with traceability software, you can create a complete track and trace system, one that repays you in dividends with data.
Here is a compilation of some of the best advice from thought-leaders around the industry, from how to get started to more advanced strategies.
Break down the process into smaller attainable steps.
While many companies are paying for the equipment and software needed to collect data, according to GrayMatter, only about two percent of them are actually using it to improve their operational decisions. Why? Many just aren't sure where to start, or they assume that they don't have the time.

To get the results you need to improve your business, GrayMatter, a company known for helping to transform manufacturing companies into technology companies, offers a step-by-step process to turn your data into action using digital twins (which are virtual models of products or processes).

Their white paper explains how these digital twins can unlock detailed insights to help your subject matter experts improve production efficiencies. According to Jim Gillespie, GrayMatter CEO, "You need a system to sort through the haystack of data and pull needles out to focus your subject matter experts."

To make data more meaningful, start by asking the right questions.
Today, too many manufacturers seem to be falling into the trap of collecting data without a strategic plan in place for how to analyze and use it. However, by asking the right questions, Fair explains, companies can organize data collection around specific business goals and develop a strategy.

Fair recommends some helpful tips to help company leaders do this, such as setting aside time to collaboratively review the data, extract insights, determine next steps forward, and even compare across plants. "Such scheduled, recurring, 'information extraction' meetings," he says, "are critical for driving continuous improvement and operational excellence through the use of data."

By focusing only on the data that is needed, manufacturers will make every piece of data more meaningful.

Have a strategic method in place to analyze data.
Big data is a big part of Manufacturing 4.0, but it's not worth much without well-organized data analysis. Manilla lays out a step-by-step approach, from initial data collection to achieving ROI.

One important tip to highlight here is the ability to use established data to prove conformance across plants. "Once you have optimized the function and performance of your production and test stations through this process of data collection and analysis, you don't have to reinvent the wheel," he advises. "With the root cause of a production or quality issue identified, the comparable process, test, or machine on other lines or at other plants can be adjusted before they can suffer the same problem."

This process not only saves time but also adds even more value to the data insights you already have.

Go digital to uncover hidden insights.
"Executives who look beyond their plants' four walls," says Parkinson, "gain even more from digitization, creating a Connected Enterprise." At Rockwell Automation, the Connected Enterprise is about combining plant-level networks with enterprise networks to securely connect people, processes, and technologies. She explains how digitization makes smart factories possible, from sharing information among production assets to proactively preventing quality problems.

"Through digitization," Parkinson explains, "we've seen manufacturers reduce lead times and defective products by as much as 50 percent, achieving unprecedented levels of customer satisfaction."

Take the market leaders' approach to innovating with data.
A company's ability to extract valuable business insights is definitely a competitive advantage. Industry Week's IBM Institute of Business Value study reveals insights from 271 industrial products manufacturing leaders and distilled it down to the three most widely used approaches they use to drive innovation through data.

These high-level, long-term strategies can help prepare your company for the increasingly connected road ahead. One approach highlighted in the study is to invest in emerging technologies. By committing to emerging and foundational technologies – such as IoT, mobile, and cloud – leaders "can extend efficiency, speed and value across their businesses."

Along with devices such as conveyors, robotics, and vision systems, manufacturers are also investing in marking technology that can communicate directly with a PLC using EtherNet/IP™. Modernizing factories with a connected traceability system, such as EtherMark, can enable plant-wide – or even multi-plant-wide – track and trace automation.
Get the richest insights through Advanced Analytics.
Many companies analyze structured data, that is, the hard numbers that a machine spits out that tell us how well we're operating. But, according to Clark, structured data isn't enough to provide the complete business intelligence that can inform impactful decisions. We also need unstructured data, which can be in the form of video, images, text, or other ambiguous sources.

He also makes the important argument that strategy alone is worthless if proper data handling isn't ingrained in a company culture. In his words, "the difference between success and failure is leadership and vision."

Focus on people over computers
Amid all of the talk about advanced technologies, one aspect is often overlooked: having the human brainpower in place to understand data, how to develop insights from it, and how to align those insights with business goals. Frahm points out that data analytics is both an art and a science, and that even the most advanced computers have their limitations.

He provides advice on getting the right people in place to analyze data and recommend actions based on an in-depth knowledge of your business.

"All parts will become traceable."
Freddie Holmes, Editor, Mobility Magazine

Don't wait to modernize your traceability technology.
Manufacturing takes place on a global scale. As we progress further into Industry 4.0, Holmes predicts that "all parts will become traceable." It's all part of the trend toward connecting different sectors of an operation and pieces of a supply chain through "Big Data." With traceability systems in place, the goal is to be able to fully automate quality control and virtually eliminate defects, and some companies are already hiring data scientists to reach it.

There's no escaping the fact that data and digital traceability will soon be a requirement for manufacturers, not only to comply with regulations and avoid recall and counterfeit risks but to hold their competitive ground.

What Modernized Traceability Looks Like [Examples]
Experts agree, data plays an important role in the future of manufacturing. Traceability is a critical part of the fully connected smart factory. If your company is among the majority not using data to its full potential, here are two examples of how data from a connected track and trace system looks like:

Scenario 1: Imagine that a product manufacturer you supply components to uncovers a serious defect in their end-product. With the proper marking and traceability system in place, your part has a documented data trail. Every production step and quality checkpoint for that part can be traced via barcode, allowing you to more quickly verify that your part met all standards and expectations from your customer.

This example highlights one of the brilliant benefits of traceability: streamlining root-cause analysis, which transforms what used to be a long, expensive, and often manual process into a fast, efficient system. Today's automated track and trace technology has been shown to minimize part defects, provide better product visibility, and protect brands from the high costs associated with counterfeiting and recalls.


Scenario 2: In many of the highly regulated industries, such as automotive, medical, and oil and gas, manufacturers also need to comply with strict traceability requirements.

If you're an automotive manufacturer, you comply with AIAG traceability requirements as specified in the B-4 Marking and Identification Standard and B-17 Direct Part Marking Guidelines. To fully meet these standards and avoid penalties, every component within the final assembly needs to have the proper traceability marks. Therefore, it is your responsibility to ensure traceability throughout your supply chain.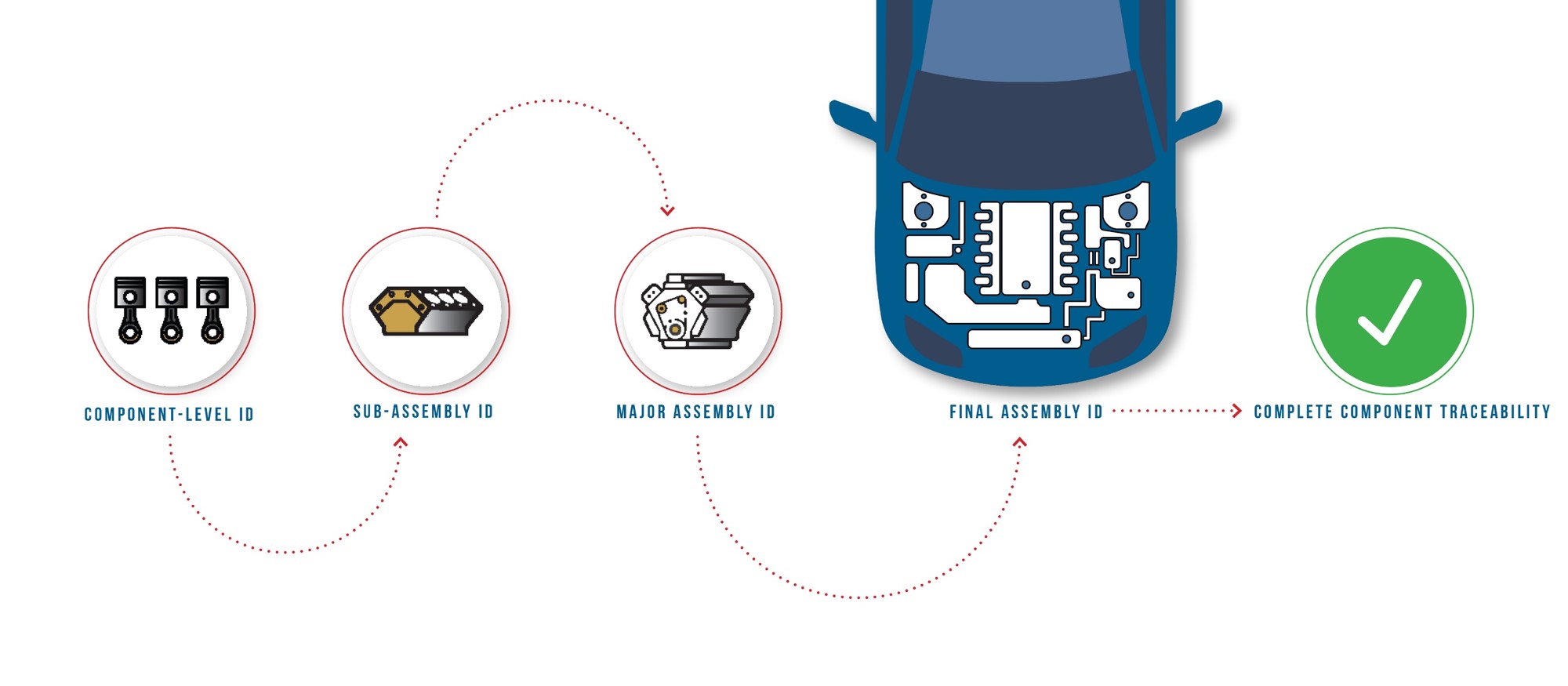 With complete component traceability with direct part marking, your company is able to view the entire genealogy of every component within your end-product.


Making the Transition to Industry 4.0 Technologies
The use of industrial data is not a fad. In fact, some would call it a revolution.

There are many legitimate reasons why manufacturers and suppliers delay adopting the new technologies that make this data available. It may be costs or simply a lack of the right people and processes to see it through. For instance, more manufacturing companies are hiring data scientists and related job positions to handle the influx of data.

But to be successful five, 10, or 20 years from now, take a note from these industry leaders and make that transition to Industry 4.0.

You don't have to do it alone. Our experts have helped countless companies find the right marking and traceability solution and integrate a scalable system into their existing factory equipment. Contact the MECCO team to talk about how to get started.