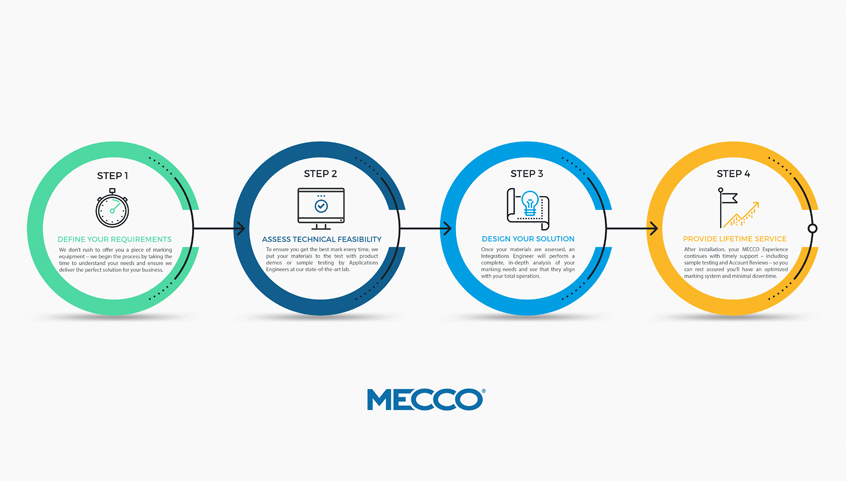 Cranberry Twp, Pa., February 1, 2019—
At MECCO, we understand that improvement is ongoing. So, we're proud to announce that we've enhanced our customer service and solution design process, or what we call "
The MECCO Experience
."
Manufacturing companies are rethinking the way they track and trace their products. Amid technological growth and constant
advances within the Industrial Internet of Things
, it's easy to get caught up in the latest innovation, that groundbreaking, all-in-one shiny object that's loaded with bells and whistles and vows to solve all of your challenges.
And that loaded promise comes with an even bigger price tag.
MECCO does things differently. Our goal has never been to "sell more units." That type of approach doesn't keep customers returning for over a century.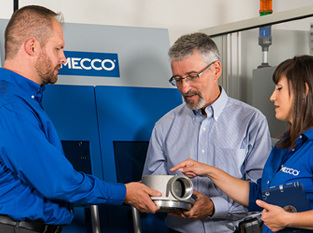 Instead,
our culture
is built on cultivating Innovative Relationships: honest communication, win-win scenarios and designing success. Because we believe that leads to engineering Innovative Solutions for our customers.
That's why we hear that their experience with MECCO is different than working with other marking equipment manufacturers. Customers comment that we are "trustworthy during the quoting process" and "always available and responsive to our specific needs."
With our new processes, we guarantee successful marking solutions that align with your evolving business goals, all with a smoother, more efficient customer experience every time. Customers now work directly with our team of experts and certified partners who get to the core of your marking goals to deliver a successful solution.
Let's Work Together
For you, this means some exciting improvements that begin with a close collaboration with
our team
from the initial purchase through installation and lifetime product support.

"We're dedicated to our customers' success, first and foremost" said Dave Sweet, MECCO's president and CEO. "So we've ensured that every customer, whether they work with MECCO or one of our highly trained partners, has a consistent, positive experience and positive marking results."

MECCO understands the benefits of localized service and has built a team of skilled local Field Specialists to ensure that you will continue to receive timely, convenient service to minimize downtime.

Here's the Plan
What will be your experience going forward?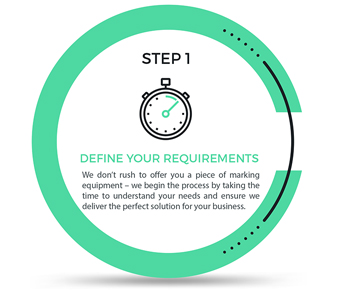 Rather than rushing to sell a piece of marking equipment, MECCO takes the time to understand your operations and goals.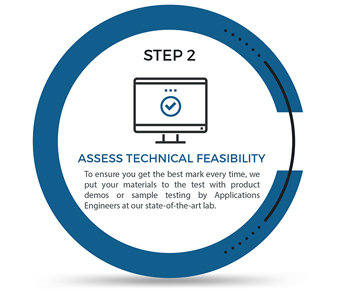 Then we test product samples to determine the best laser or dot peen marking method for your materials. Our solution design phase digs even further to uncover important details like how you will interact with your marking machine and what type of integration you require.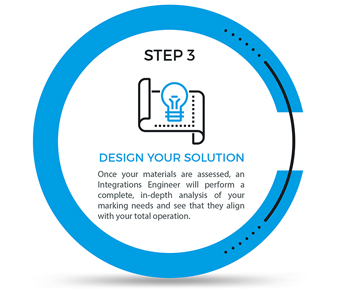 Once you sign on the dotted line and your equipment is installed, the service doesn't end there. You receive lifetime technical support along with annual Account Reviews to make sure your solution continues to work for you, even as your business and the industry evolve.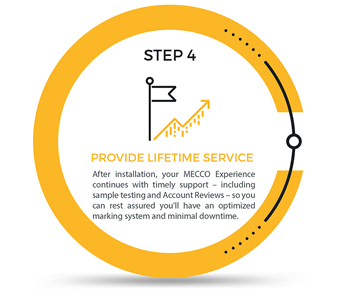 "Based on years of planning and listening to customer feedback, this is a fresh approach to the way we serve our customers," said Dan Prokop, marketing manager at MECCO. "We're continuously looking at how we can provide more value to make them successful."

Bottom line, here's what our customers can expect when they work with MECCO and our certified partners:

Direct Communication between our customers and a dedicated team of marking and engineering experts.
Direct Analysis that goes deeper to understand their operational and marking goals.
Direct Results with a failsafe solution that aligns with their specific needs.
##
About MECCO:
Established in Pittsburgh, Pa. in 1889, MECCO is recognized as a leader in industrial product marking and identification systems. MECCO's wide range of innovative laser and dot peen marking solutions, from modular marking systems to fully integrated turnkey traceability solutions, and technical expertise enable manufacturers to increase quality, performance, and profitability. Through The MECCO Experience, customer relationships are paramount, providing the long-term solutions that differentiate MECCO throughout the industry.