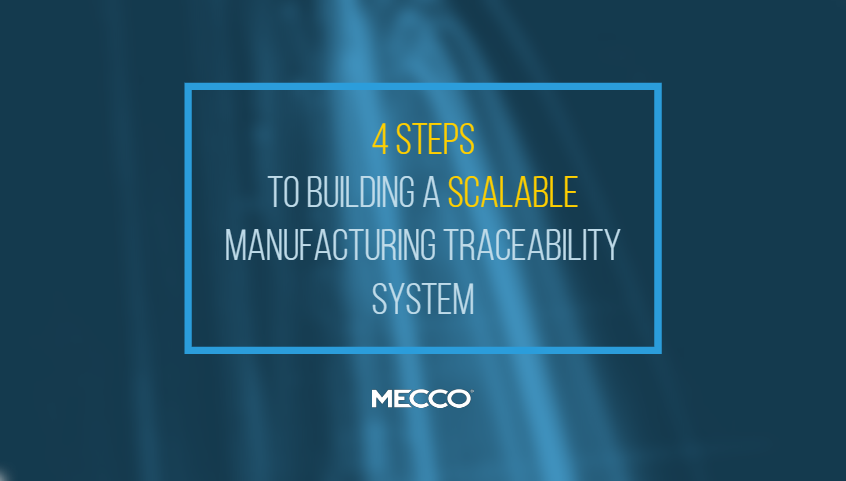 By now, you've done your homework and understand that
manufacturing traceability and part marking are essential
if you want to remain competitive. This is Industry 4.0, a time when consumers, regulatory agencies, and your partners throughout the supply chain demand greater transparency. And if you want to be a top player, enhancing operational efficiency and quality assurance metrics are probably keeping you up at night.
So, you start planning for the implementation of your traceability system – and you hit a roadblock. Building an end-to-end, large-scale system can be time consuming and expensive. It often requires a complete change to the manufacturing processes. While some organizations may want to go this route to fast-track deployment to meet short-term goals, it can be very disruptive when done in one fell swoop.
The good news is there is an easier, more budget-friendly strategy for implementing a manufacturing traceability system.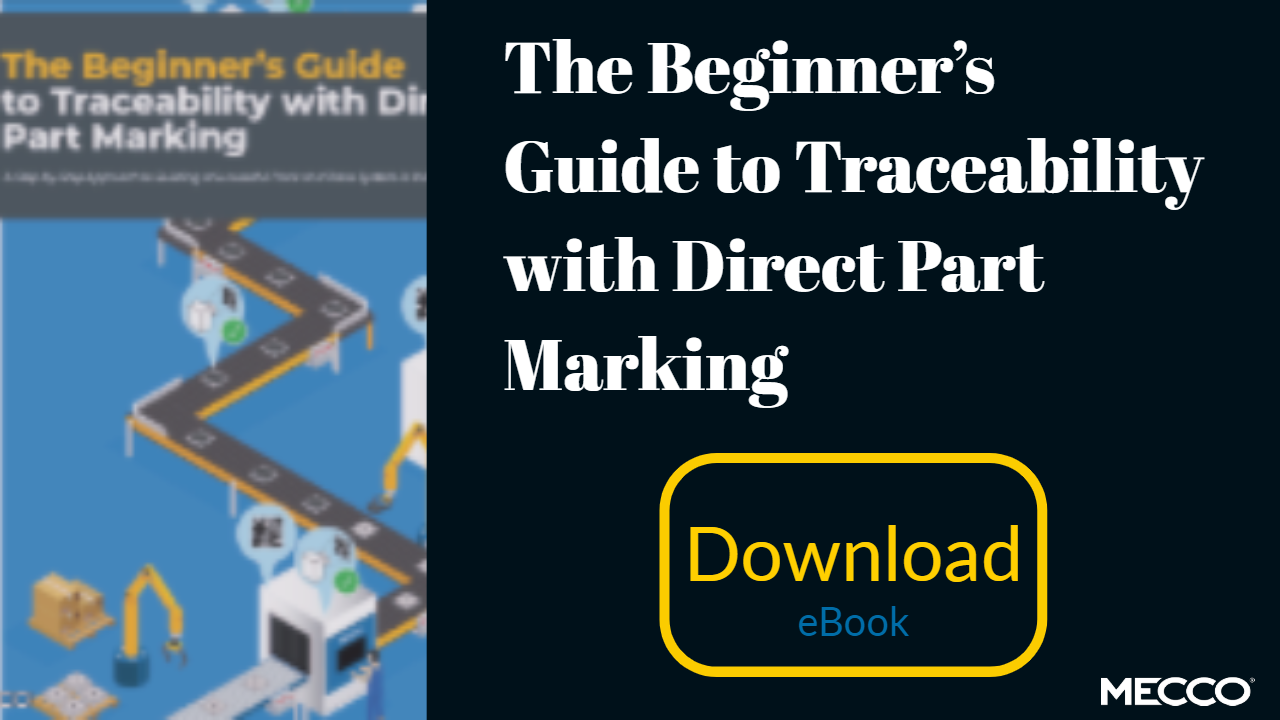 Want Big-Impact Traceability? Start Small.
Staying competitive in your market by implementing a part traceability system doesn't need to be an all-or-nothing process.
It all starts small, with an infrastructure that can expand incrementally as you decide to grow your track and trace capabilities.
When I'm working with manufacturing customers, I've found that they're more successful when they take this bottom-up approach to implement traceability. The process typically begins at the lean cell level and then scales up.
As they expand their system – adding
laser
or
pin marking machines
to other operations areas, incorporating
laser marking software
, integrating a database via
EtherMark®
– they expose more of their manufacturing process to traceability. Over time, they can build a complete traceability system that can adapt to their evolving needs.
Stop. Review. Strategize.
To get the most value out of your traceability system, I always remind my customers to consider their big-picture goals.
You're about to begin building a solution that will serve your needs in the short term but will also grow with your organization over time.
Here are a few considerations:
What are your long-term operational goals?
What are the trends that could change how your product is made?
Are there any new manufacturing regulations or standards you will have to comply with?
What changes will happen within your supply chain that could impact how your product is transported or distributed?
How are the needs of your customers changing?
Do you anticipate any major changes within your organization?
No one knows exactly what the market will look like or what new technology we'll have, but we can make some educated predictions on how traceability may be affected.
Implementing a Scalable Track and Trace System in 4 Steps
Once you've your long-term needs with regards to traceability, it's time to start designing your system.
The road to building a foundation for a more successful and connected traceability infrastructure is based on four steps:
Determine what identifying information should be marked on the part.
Select the best marking equipment for the product environment and part lifecycle.
Integrate vision technology to verify accuracy and grade marks.
Enable industrial data and analytics by integrating marking equipment with enterprise software.

1. Determine what identifying information should be marked on the part.
The first step to traceability is deciding what information is needed to identify parts. Parts can be identified in a number of ways, including model or batch number, manufacturing date, etc. However, serialization – or assigning a unique identifier (UID) to each unit – is what allows critical information to be accessible within the enterprise software.

Once the coded information is defined, it is typically displayed as either a 1D linear barcode or a 2D Data Matrix. The latter is preferred for traceability because it can store a greater amount of information with a smaller footprint. Additionally, 2D Data Matrix codes have redundancies so that part of the mark could be covered or destroyed and it would retain its readability.
2. Select the best marking equipment for the product environment and part lifecycle.

Once the identification method is defined, it's time to choose the right marking technology. Materials, the manufacturing process, and enterprise integration all play into the type of marking equipment to choose.




Resource:
Want the best marking technology for your material?
Download this infographic
to help pinpoint your traceability needs.

3. Integrate vision technology to verify accuracy and grade marks.
A vision system enables tracking, sorting, and identifying through part type, orientation and mark area recognition, mark grading, and defect detection.

This stage is critical for complete traceability for two key reasons: 1) it ensures that the right data is going to be marked on the right part, and 2) it confirms there were no errors in the marking process.

The reading and verification processes work by:

Verifying that the barcode information is correct and preventing serial number duplication
Grading barcode quality to ensure the durability of traceability data
Logging barcode information into a database
Automating processes by scanning barcodes at critical points in the manufacturing process

4. Enable industrial data and analytics by integrating marking equipment with enterprise software.

A part is marked with a barcode using the appropriate marking equipment, and a vision system is integrated. Now, the final step takes manufacturers beyond merely identifying parts to implementing a complete track and trace system.

It starts with connecting marking equipment with enterprise software, allowing traceability information to flow back and forth. Though there are various levels of connectivity, this integration process can be done through one of two main ways, depending on your existing manufacturing system: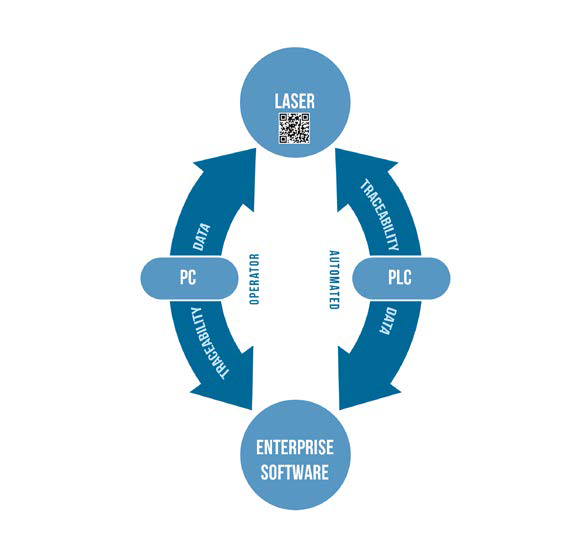 1) Manually (operator driven) via a PC
2) Automatically via a PLC (Programmable Logic Controller)

While direct integration with a database is possible using a PC with a custom graphical user interface (GUI), the more common approach is to tap into the factory automation network and remove the PC from the factory floor. This is achieved by integrating the marking system with a programmable logic controller (PLC).

For manufacturers using PLCs, automated integration is more effective because most of their factory equipment communicates through EtherNet/IP. Historically, marking systems have not been able to communicate this way, instead requiring proprietary Application Programming Interfaces (APIs) that included hours of custom programming.



Ready to Start Building Your System?

Your operation is unique and requires a marking and traceability strategy that fits your operational and business goals. An incremental, scalable approach starts with a solid foundation. From here, you can continue to improve your processes and expand your traceability initiative.

Best of all, you can implement it at your own pace.

But, as you can tell, each system comes with plenty of variables and unknowns. Having a team of experts with experience in marking and traceability system integration can save you much of the time and stress that goes in to planning even a small-scale system.