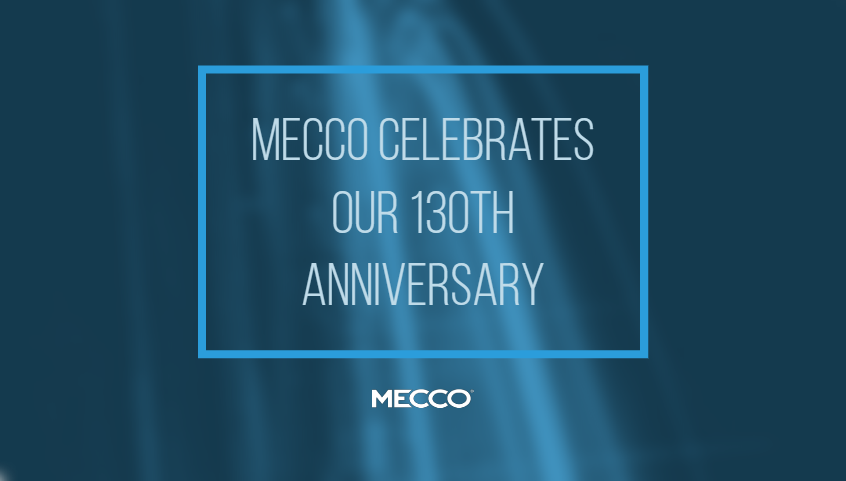 In 2019, the MECCO team celebrated our 130th anniversary.
That's an impressive milestone for any company. But at MECCO, we look at our company's
history
a little differently.
You see, while we may have 13 decades under our belt, it's really what we've accomplished in our most recent history that's driving the industry-leading marking and traceability innovations we deliver today.
That's what our 130th anniversary is all about: "Fast. Forward." Together with our team, our partners, and our customers, we've achieved exponential growth in a relatively short amount of time.
In fact, MECCO is proud to announce that we grew our company by 80% in just five years.
And we will continue to move forward, engineering new solutions for our customers in Industry 4.0 and beyond.

Keep Moving Forward
Since we celebrated our 125th anniversary in 2014, MECCO has been working to develop and refine our products and services to help manufacturers in the digital age.
"The growth we have seen over the past 5 years," explained Dave Sweet, our President, "is really a tribute to our employees and their willingness to continuously improve and implement impactful changes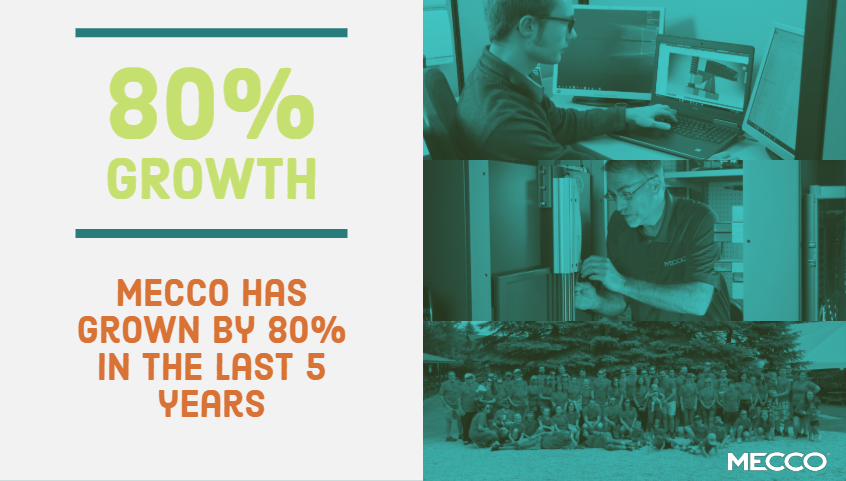 that allow MECCO to better serve our customers."
Here's a sampling of some of the projects and initiatives that have helped propel MECCO to new heights:
Launching new product innovations:
We haven't just gotten older over the last five years. We've gotten smarter, too, engineering technologies to help keep manufacturers at the top of their game.
Smarter Traceability Integration with EtherMark


As a Rockwell Automation Encompass™ Product Partner, MECCO has advanced traceability for the Connected Enterprise with the first Ethernet/IP® solution for marking equipment, EtherMark®.

This patent-pending technology, which made its official debut in 2014, has become a central part of our product offering. EtherMark comes standard in our laser marking machines as well as about 45 percent of our pin marking machines.

Why do so many manufacturers want to connect marking equipment to their enterprise? This product significantly reduces custom programming and eliminates the need for fragile PCs on the shop floor. Plus, the resulting track and trace system enhances your operational efficiency and quality assurance metrics.

Since the release of EtherMark, we've expanded into different communication protocols, including ProfiNet and Mobus, and developed new SMARTmark products that integrate with EtherMark software.


More Equipment Designed for You


Every operation is unique. That's why we expanded our line of turnkey marking solutions to meet your specific challenges. From fixtures and part flippers to robots and rotary tables, our engineered Custom and Configured solutions solve the problems no other marking equipment company can solve.


Cleaner Marks with the SMARTmark® Tiburon Laser


Certain applications, such as branding and traceability barcodes, require a razor-sharp, crystal-clear mark. In 2014, MECCO launched the SMARTmark Tiburon laser marking machine with ultra-short pulses that deliver three times the peak power of conventional fiber lasers.

As a response to increasing quality standards and track and trace requirements, our Tiburon laser creates higher-contrast marks that are more readable for barcode scanners and vision systems.


New Innovations to Meet Your Needs


There are also several new products to add to our growing range of marking and traceability solutions.

For readable, high-contrast marks that won't damage delicate materials, the SMARTmark Green Laser marking machine. The Green (or "cold") laser is the most powerful on the market for a wavelength of only 532NM. This versatile machine can be used for applications from wafer marking to copper drilling and easily integrates with your existing assembly lines.

Get flawless results on certain plastics, glass, ceramic and a variety of other organic or heat-sensitive materials with the SMARTmark 3W UV Laser marking Machine. "Cold marking" technology minimizes the heat stress that leads to costly product damage thanks to a 355nm UV laser wavelength.

And of course, the LightWriter™ by MECCO is a line of complete industrial desktop and tabletop fiber laser engravers.The all-in-one marking systems include a powerful 20W or 50W fiber laser inside a well-designed Class 1 enclosure to maximize safety. Its sturdy modular design, user-friendly software, and cost-effective operation result in easier, more economical laser marking.

MECCO was also thankful to receive multiple grants for an initiative through the Manufacturing PA Initiative. This generous grant allows us to pursue new innovations in laser plastic welding for the plastics manufacturing industry. As part of this program, MECCO experts have been working side by side with Robert Morris University students to bring this project to life and help strengthen the "direct correlation between manufacturing innovation and economic growth," according to Governor Tom Wolf.

Refining our company culture and values

Over the years, have seen changes not only in what we offer our customer, but how we deliver it. We knew we wanted to provide more complete solutions, so rather than looking outside, we looked inside – to our company's core values and culture.

"What our customers buy is MECCO," says Sweet. "It goes beyond just our equipment to what we call the MECCO Experience. The MECCO Experience combines our innovative technology with the passion of our culture to best serve our customers."

So in 2015 we began refining what it meant to be a member of the MECCO team and put our culture into practice. The result was a set of nine core behaviors that reflects how we treat our customers as well as each other. These tenants, along with our "Culture Shark" mascot, are displayed throughout our office, a reminder to team members to live these values every day.



"By listening to what our customers need, refining our internal processes, and focusing on delivering technologies and next-gen products – this is what will help our customers succeed in Industry 4.0."


A huge part of our culture is that we're always learning and growing. In the past few years, we've also focused on regular employee education. These training sessions ensure our people are up to date on the latest technologies, techniques, and processes and can apply that knowledge to designing solutions for our customers.


Enhancing our service and solution design process

If you've ever worked with a company that delivers great solutions one day and shoddy service the next, you know how frustrating an inconsistent customer experience can be. The MECCO Experience reflects our belief that Innovative Relationships lead to Innovative Solutions. We wanted every customer to get the same excellent experience every time they work with MECCO.



"Who we are in 2019 is fundamentally different than who we were in 1889. Today, we operate more like a startup company than a 130-year-old organization."


The result: A consistent process that streamlines our customer service and sets MECCO apart from other marking equipment providers. With this new approach, you work directly with our team of experts and certified partners who get to the core of your marking goals to deliver a successful solution.

"Focusing on the specific needs of each individual customer takes time," says Pete Sweet, Customer Experience Manager, "but MECCO understands that experience is critical to our customers' success."

From Stamps to Startup

We can't talk about our 130th anniversary without getting into a little history. MECCO began as M.E. Cunningham Company just before the turn of the 20th Century producing rubber stamps and sundries until 1924 when the company introduced steel stamp and other metal marking product manufacturing. Then in 1936, we began manufacturing metal marking equipment.

But, the past is, well, in the past. The important question is what are we doing to help our customers today, and tomorrow?

As we speak, technology is rapidly advancing, industry regulations are changing, and customer needs are evolving.

At MECCO, we are moving forward – with the needs of our customers and of the industry. And, with our team, our customers, and our partners throughout the manufacturing community, we've done it in a relatively short amount of time.

"By listening to what our customers need, refining our internal processes, and focusing on delivering technologies and next-gen products – this is what will help our customers succeed in Industry 4.0," continues Sweet. "Who we are in 2019 is fundamentally different than who we were in 1889. Today, we operate more like a startup company than a 130-year-old organization."

And that startup mentality has propelled MECCO to become more than simply a marking equipment vendor but a connected traceability solutions partner.