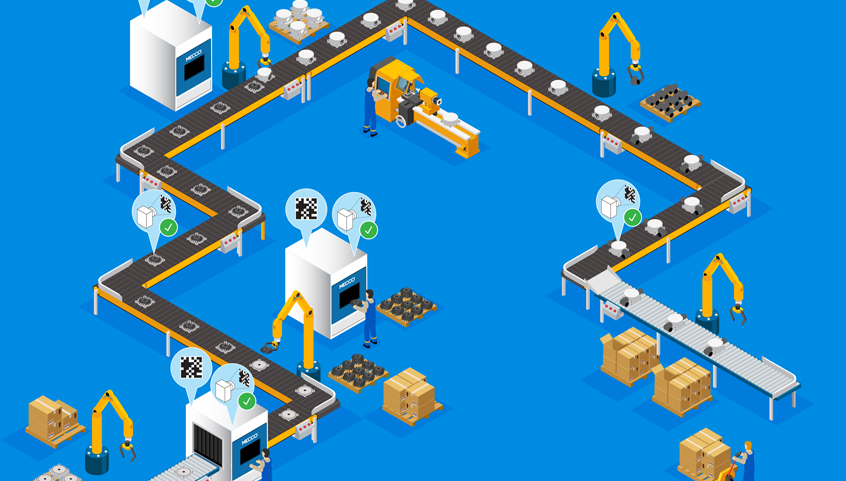 Let me ask you something – How much time do you spend controlling your factory inventory?
If you are a manufacturer or supplier who manually tracks and manages inventory, it's probably more hours than you'd like.
And you're not alone. At this moment, many supply chain or finance managers are at their keyboard updating their Excel spreadsheets (or even using pen and paper) to track inventory data.
Simultaneously, they're facing greater pressure to operate more efficiently – all while enhancing traceability, quality, and accuracy in every aspect of operations and throughout the manufacturing process.
That all adds up to a lot of man hours. In a fast-paced production environment where everyone is forced to do more with less, these demands can put a critical strain on company resources.
This is where automation can become your new best friend.
If your company doesn't have a computer automated traceability system to permanently track and trace inventory of raw materials, parts, or products, you could be facing several challenges, including:
Inconsistent inventory processing due to availability of staff
Data-entry, transcription, and other "human" errors
Inability to conform to quality standards, including ISO 9000
Partial to total disruption of operations
These issues lead to costly waste and, ultimately, unhappy customers.
So the questions are: Why should you upgrade your inventory management process to be able to track and trace all materials? On top of that, how can you do this within a specified budget?
Here, we'll divulge the benefits of a facility-wide, automated traceability process. Then, we'll look at one solution that will allow you to start implementing cost-effective changes to your inventory management process.
3 Benefits of Automated Inventory Tracking
Automated inventory tracking is on the rise. In 2018, Motorola Solutions found that only about 12 percent of warehouses are still using pen-and-paper record keeping, up from 41 percent in 2013. In the next five years, 70 percent of these companies plan to install more automated processes.
Here are some of the main reasons why manufacturing companies are upgrading their systems to automatically track and trace inventory:
Track and trace materials throughout their lifetime
Traceability is the capacity for tracking a component and its relevant history throughout its life cycle. Manual tracking – as well as missing barcodes or damaged printed labels – can cause slow, inaccurate record keeping. With an automated permanent marking and traceability system in place, materials or assemblies can be tracked and routed throughout the production process, saving time and reducing waste.


Increase inventory accuracy
An automated system links all material and product data to give you a seamless genealogy for each one. It also manages storage locations, containers, and bins, so you know where your inventory is at all times and provides visibility into inventory levels throughout the site. Having this data allows for faster, more accurate reporting.

If you are an OEM or supplier, an automated system can enable you to jointly manage and forecast requirements.


Make decisions in real time
Having live updates at your fingertips gives you the up-to-the-minute inventory information to make timely decisions. Identify – and be able to correct – issues as they occur rather than allowing waste and costs to add up.
Easier Inventory Management Solutions
While it may have been an organized and effective record keeping method for years, manual inventory tracking often inhibits companies from reaching the increased flexibility and efficiency that will take to their business to the next level.
One major barrier to automated inventory tracking systems is budget. While you could implement a full-scale system for complete traceability, that can mean significant costs and implementation time, not to mention extensive management and IT support.
However, if you're
new to the Industrial Internet of Things (IIoT)
, you don't have to take this full-blown route just yet.
A scalable, step-by-step approach to traceability can prove more manageable and budget-friendly, especially if your company is used to pen-and-paper or another manual method.
Rockwell Automation
, a software company dedicated to smart manufacturing, offers the Next Generation Track and Trace solution (NGT2) that makes this approach a reality. MECCO is a
Rockwell Automation Encompass™ Product Partner
, which means that we can offer connectivity solutions that extend and enhance Rockwell Automation installations.
By combining NGT2 software technology with
MECCO's laser and pin marking equipment
, you can implement a system in phases and decide when you want to expand your track and trace capabilities. MECCO's direct part marking systems easily integrate into factory automation controls, minimizing system setup and programming time, giving you the benefits of an automated factory.
Then you decide when you want to upgrade and expand your automated inventory traceability without blowing your budget.
Case Example:
Cell-Level Traceability Saves Time and Costs
Background
A mid-size manufacturer was having issues in their production line due to poor quality control and passing inventory too early in their production process. The supply chain and production managers were facing pressure to resolve the quality issues while also ensuring that the "good" components were available to meet the demands of the next production process.
It was clear to both managers that error proofing and inventory control were at the heart of the issue, and their manual record keeping system wasn't cutting it. However, implementing a plant-wide traceability and inventory control system was going to be too costly from a time and capital resource perspective.
Solution
They needed a solution that allowed them to address both of their key issues while staying within budget.
MECCO's equipment combined with Rockwell Automation's NGT2 track and trace technology allowed them to implement a traceability and quality control system in stages at the lean cell level. They were able to solve their current issues and include additional automation processes at their own pace.
Their system used
MECCO EtherMark-enabled permanent marking equipment
to laser mark each component with a unique serial number that could be scanned at each step of the process. This allowed them to identify components before and after each critical step in the manufacturing cell. Rockwell's NGT2 software captured traceability data at each step to ensure quality and location of good inventory.
Results
The managers were able to implement this solution specific to their cell faster and more cost effectively for three reasons:
They were able focus deployment at the lean cell level rather than plant wide.

The communication process was easier and faster thanks to the configurability of Rockwell's NGT2 software and MECCO's EtherMark protocol (Add-On Profile/Add-On Instructions).

There was minimal downtime thanks to faster programming.

Over time, the managers scaled this solution to include each critical operation in their manufacturing process.
"We were able to eliminate costly quality errors and improve time delivery because we had good components in inventory that were ready to meet the demands of production." ~ Greg H., Supply Chain Manager