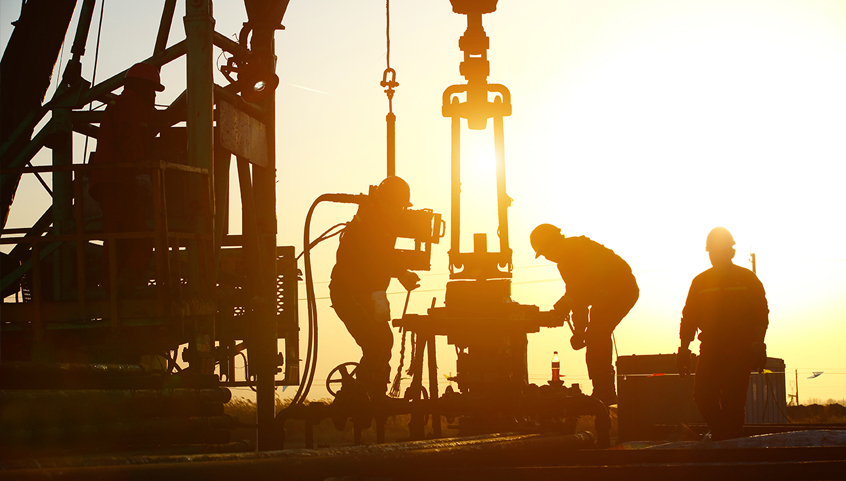 Updated April, 2022
From the deep ocean to frozen arctic regions to viscous tar sands, oil and gas drilling units need to stand up to some of the toughest extremes on the planet.
It's no surprise that materials like pipes and flanges are all subject to corrosion and other serious issues that can take a toll your operational efficiency.
If you're a downhole driller, tool joint manufacturer, fabricator, or supplier to the industry, you understand the importance of increasing operator safety and protecting against human and environmental disasters. World events have affected supplies, prices, and policies across the industry. Increasing regulations call for material verification and validation to control quality and help avoid these risks. And that means tracking every part of the operation – pipes, valves, flanges, drill bits, grippers, and tool joints just to name a few.
This is where marking and traceability come into play.
The first
step to traceability
is permanent part identification. Direct part marking methods, namely
pin marking
and
laser marking
, allow you to verify the quality of each part by marking them with essential information, such as serial numbers. If any issues do arise in the field, parts from the same batch can be quickly identified to proactively repair or replace to prevent mistakes and safety concerns. It's critical in this industry that you mark materials in a way that can not only withstand harsh environments but also integrate with your existing operations.
So what constitutes a good (a.k.a. cost-effective) marking solution? We'll drill it down for you (pun intended).
Why Hand Stamping is Not the Effective for Traceability
For years, operations relied on hand stamping parts with identification characters. For low-volume production, this may seem like a viable option.
But hand stamping methods can also come at a cost:
Increased labor – Stamping multiple characters, one by one, on every part adds significantly to your cycle time.
Excesive waste – Relying on hand marking increases the likelihood of errors, resulting in remarking or scrapping parts.
Medical issues – Accidents can occur with hand marking, resulting in more operator injuries and workers' compensation claims.
On top of these negative results, if you use any paints or coatings, your marks may not be visible when using hand stamping. One engineer at southwestern
fabrication company described
, "We had to go over the marks twice so that they could be seen after the coating was applied. Otherwise, the customer's inspectors send it back to be remarked."
The good news is, there are many other options to keep your costs down and your safety record and productivity up.
A popular option for oil and gas operations is a
pin marking system
. These machines are used throughout the oil and gas industry for several reasons, including that they are:
Specifically made for creating deep, readable marks, even with paints or coatings
Operate at high speeds to reduce cycle time
Offer safe, automated, user-friendly operation
Create permanent marks that can withstand tough environments (take a look at this N-34 Deep Marking System below)
How to Choose the Right Marking Equipment
Many of our oil and gas customers ask us what type of marking system they should use. Fundamentally, you're looking for:
Mark quality – Equipment that creates deep, permanent, readable marks (even after a coating is applied).
Efficiency – A marking solution that can keep up with the speed of production.
Tracking – An identification system that proves where the product came from, who made it, and what materials were used.
Safety – A system that verifies parts so that if any issues would arise in the field, parts from the same batch can be identified to proactively replace or repair before serious issues occur.
Dot peen and
scribe
markers meet these criteria and also more cost effective in the long run thanks to automated efficiency.
What equipment is best for your operation? Depending on what you do and where your company operates within the supply chain, you will need a different type of dot peen machine to get the mark you want.
Here are three examples of marking applications and the types of machines that could be used.
Materials

A single drilling platform may contain materials from thousands of suppliers, and downhole drilling operations rely on fabricators and suppliers to provide the history behind every component. Dot peen equipment allows for part identification, which serves two main purposes.

One is for supply chain traceability. Unique IDs allow drilling operations to track material tests and assessments for regulation compliance and to help avoid liability in the chance of an accident.

Another is for ease of reordering. With permanent part numbers, their customers can place reorders quickly and ensure they're getting the exact part they need.

For some suppliers and fabricators, high-speed marking may be a necessity for high-volume production. (In fact, some machines can mark up to 16 characters per second.) Other companies may need to mark several smaller parts, which could require them to use a dot peen machine capable of creating a creating a smooth, readable mark – such as alphanumeric characters, barcodes, or logos – on a small surface area.

Tool Joints and Valves

A key material in oil and gas pipelines, tool joints connect joints of the pipe together. It's no surprise that they're subject to extreme stresses during the drilling process.

Marking on pipes and tubing can often present a challenge because of the different diameters. For this application, you would need equipment designed to be flexible and portable, with pneumatic clamps that allow it to automatically adjust to the curves and varying angles to achieve successful traceability.

Valves control the flow of oil and gas. Small components like this call for a precise marking tool. Compact laser marking workstations are ideal for these types of marks and are actually economical and easy to operate.

Downhole Drilling

Each downhole pipe drills up to thousands of feet into the earth several times to extract crude oil. So marks have to be deep.

To get a permanent mark that can withstand this environment, your machine must be able to conform to various diameters so that it creates a readable mark around the diameter of the pipe. MECCO created one solution that uses a magnetic piece fitted around a pipe to easily guide the dot peen unit around its diameter.

Additionally, a flange marker can mark 360 degrees with a precision rotary chuck to produce marks on various size pipes, flanges, and couplings.

Do You Have the Right Tool for the Job?
If you're in the market for an effective traceability solution that saves you time and costs, the best thing to do is to work with an expert who can make recommendations based on your specific needs. Take a look at MECCO's
wide selection of dot peen and scribe solutions
. Whether you're looking for speed, depth, or a combination of both, we work with you to find the best fit for your application.
Are you marking round parts? Or perhaps you need a marking solution that can stand up to harsh environments?