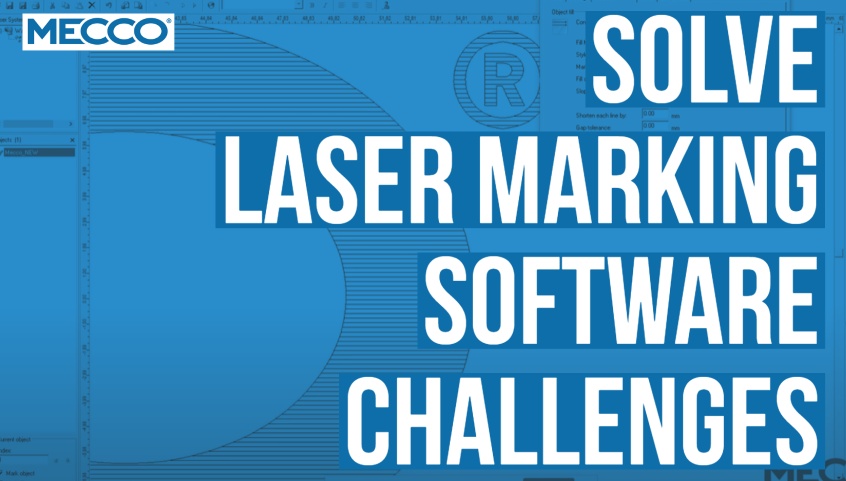 Are you and your team running into challenges using your industrial laser marking software?
Your software is an essential tool for creating the right marks on your products, from serial numbers to QR codes and graphics. But every product is different, and it's not uncommon to hit a hurdle when you need to adjust your laser or fill settings, automate data, or make changes to improve mark readability. And some applications, such as
laser marking on plastics
, can be trickier than others.
The best way to fully optimize your laser part marking is to harness the power of your laser marking software and know how to use it.Questions about how to use laser engraving software are among the most common that MECCO applications engineer and trainer, Carol Nelson, gets from customers. Here, she answers some of these inquiries and reveals a few valuable tips for getting the right laser marks with
WinLase® by MECCO software
.
If you want to learn more, Carol is also hosting
Customer Virtual Training Courses
and sharing all the expertise she's accumulated on topics like laser marking software.
Q: What is a power map, and how do you use it?
Carol
: This is a great place to start because a
power map
is a great tool that lets you adjust and test your laser settings to get a desired mark. Essentially, it's a grid of squares, each square having its own settings. Using the X axis, we can vary the setting by speed, so typically we go 100 to 1000 millimeters per second.
Then on the Y axis, we vary the power starting from 10% up to 100%. That creates your grid. The thing we keep constant in that grid is your frequency. So, if you want to change that you can just select all the squares and then change the frequency.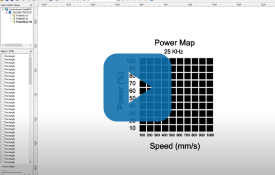 The power map is set up so that you know each row is a power level and each column is a speed. That'll show you the variety of different marks that you can get on your part. For example, you can test low power with a slow speed, low power with a fast speed, or high power slow, high power fast. Once you mark that on your part, you can just pick the square you like and then copy the settings from that square and apply it to the objects in your job file.


Q: What's the best file format to use when importing graphics?

Carol: When importing a graphic to WinLase, the best file format to use is typically going to be a vector-based format. I recommend using .dfx, .dwg, .ai, or sometimes .plt files. Those are the ones that are typically going to work best to be the easiest.

This function is used when you're importing graphic files like logos or custom certification graphics, whether it's a CE or UL graphic or even a custom shape.


Q: How do you change your fill settings?

Carol: After you've imported your graphic, it will not have a fill, which is standard in WinLase. But this is something you can easily add. The fill setting is a tab within your properties box in WinLase. If you go to your properties of an object, you should have a tab called "Fill". You'll pick your fill orientation or pattern and then you'll pick your fill spacing. Those are going to be your most important parts for your fill.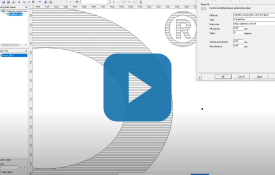 One reason you might change that fill is if you see that your mark is too burnt. In that case, you might want to expand that fill and give some breathing room between the lines that fill up the mark. If the mark is not being filled all the way, you might tighten it. That way you don't see any gaps.

Typically, we provide those best fit fill settings with profiles that come with a MECCO laser marking machine. Or, if you use the power map, you can just copy the fill from that.


Q: We need to make a background pass on a barcode. How would I do that?

Carol: You might use a background pass if you're working on metals where that first pass creates kind of a dark mark. You can use that background pass as a lighter white mark to clean up the area and help the dark part stand out more against the background of the metal. That step helps scanners pick them up more quickly.

To make a background pass on a barcode, within the Properties of a barcode object, there's a tab called Tuner, and there's an option called Invert. If you select to invert a barcode, it'll make an inverse image of it. So, your first object is a standard barcode, and your second object is an inverted barcode. Once you have those, make sure you put them one on top of the other with their centers aligned. That's how you can add that background pass.


Q: Can data be automated, and what are some examples of when you would want to automate data?
Carol
: Yes, data can be automated. You can do that right inside the WinLase software. You don't necessarily have to have an external database or GUI (graphical user interface) connected. You can also automate data right within the standard software itself.
For example, say we have a text string and it's a date code. In the Source tab of your Properties, you can tell it immediately to do a date code, and you pick your style of date code. With serial numbers you can tell it what you want the first serial number to be. The software will serialize from that, so you can automate new timestamps and connect text files to it. You can even do what we call "custom strings". That's when you customize that string to automate many different things all at once.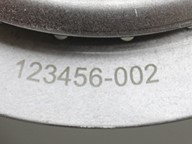 The most common use is text strings or barcodes that have dynamic information. So, it may be that from part to part, the serial number changes or from day to day, and you need the next date marked onto the part. A lot of that dynamic information you can have updated and automated right in the software itself.
Q: Can the same laser software run on multiple computers simultaneously?
Carol: Yes, you can run laser software on multiple computers. Some operations may do this if they want to have someone able to build the job file in one location and then send it to the production floor. But only one of them will be able to run it and send signals to the laser. This is because the laser must be connected to the software to make the mark.
To run the software from different computers, you simply download it onto the computers you want and use it to create job files. Then, just save that job file somewhere you know any of those computers could access. That way you know when you go to the computer that's connected to the laser itself, you can access that file.
Meet laser marking software expert, Carol Nelson
Carol Nelson has helped MECCO customers find thousands of solutions over the years as an Applications Engineer. Coming from a large engineering family, she earned her bachelor's degree in Manufacturing and Mechanical Engineering and Masters in Engineering Management from Robert Morris University and joined the MECCO team in 2017. Today, she gets to work with customers every day to help them better understand their processes and technology. She has become a go-to expert at MECCO because of her deep technical knowledge and experience as well as her love of learning and helping others. When she's not developing sample marking reports or doing research and development on new marking systems, you can find Carol camping, hiking, and spending time with her pets.
Connect with Carol Nelson, MECCO applications engineer, on LinkedIn.
Questions? Reach out to a Customer Service representative.