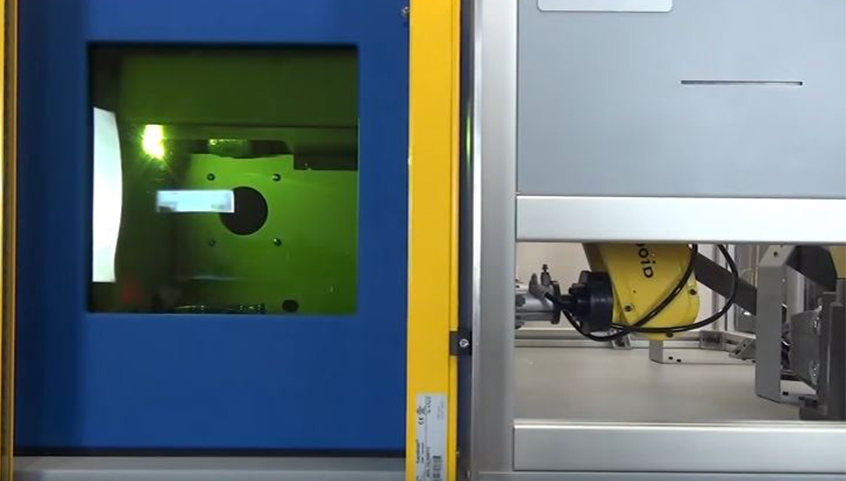 To overcome today's industrial challenges, manufacturers need to work smarter by connecting the factory. They need to increase efficiency, reduce costs, and increase quality. All of these goals can be accomplished using an integrated track and trace system.
Traceability systems utilize devices such as conveyors, robotics, and vision systems, which communicate directly with a PLC using EtherNet/IP to automate processes in assembly lines. Another critical component of traceability, the marking of part information in barcode or human readable form, has historically required propriety Application Programming Interfaces in order to communicate, and it required 30+ hours of custom programming.

The automation cell demo of traceability for the connected enterprise.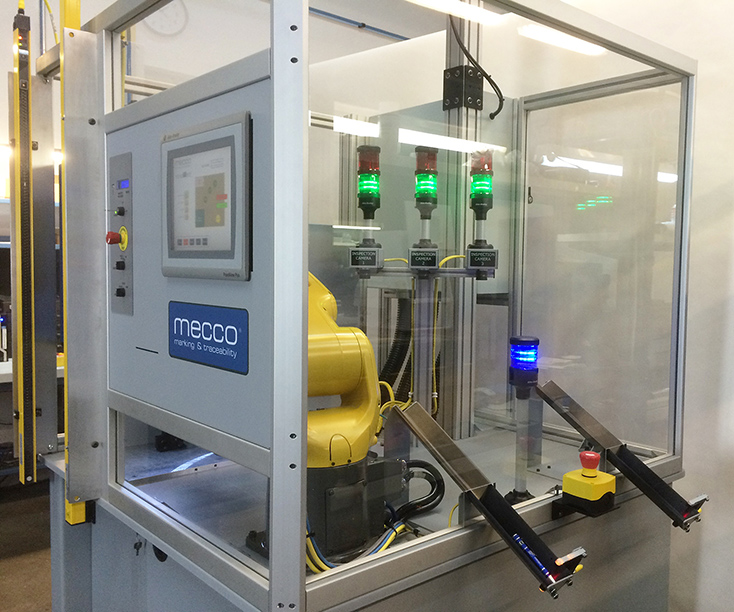 EtherMark provides direct communication from the PLC to the marking device. Now that laser and dot peen marking equipment, via EtherMark®, is connected to the factory floor, it becomes easier to implement a traceability system and obtain the benefits of cost reduction and increased efficiencies. This demo shows this equipment connected via EtherNet/IP to a PLC.
Traceability for the Connected Enterprise: How it Works
In this demo's configuration, we are placing a part onto a fixture for marking. The job file is set up with standard logos, as well as custom data. You can enter the data via the HMI screen or have it automatically pull from your database via EtherNet/IP.
When you select 'start mark,' the Class 1 laser enclosure door automatically closes so that laser marking can begin. Logos are laser marked on side one of the part. After a motor rotates the part, custom data is marked in both barcode and human readable form.
An internal enclosure camera then reads the barcode and stores the information in the FactoryTalk database.


A robotic arm removes the marked part from the fixture and transfers it to camera stations for inspection. The part is presented to three camera stations in a simulated track and trace process, just as it might be inspected at multiple checkpoints throughout the assembly process across a factory floor. At the end of the line, the robot will deliver the completed part to a pass bin or fail bin based on the results of the inspections.
Critical track and trace information is recorded in Rockwell Automation's FactoryTalk software. This can include the serial number, lot number, date of manufacture, and process quality control.
By leveraging the power of EtherNet/IP with MECCO's EtherMark-enabled laser and dot peen marking systems, manufacturers can significantly reduce build and integration time.
Implement Your Own Connected Enterprise
Learn more about adding traceability to achieve a connected enterprise:
The Benefits of Direct EtherNet/IP Communication Over Proprietary API's