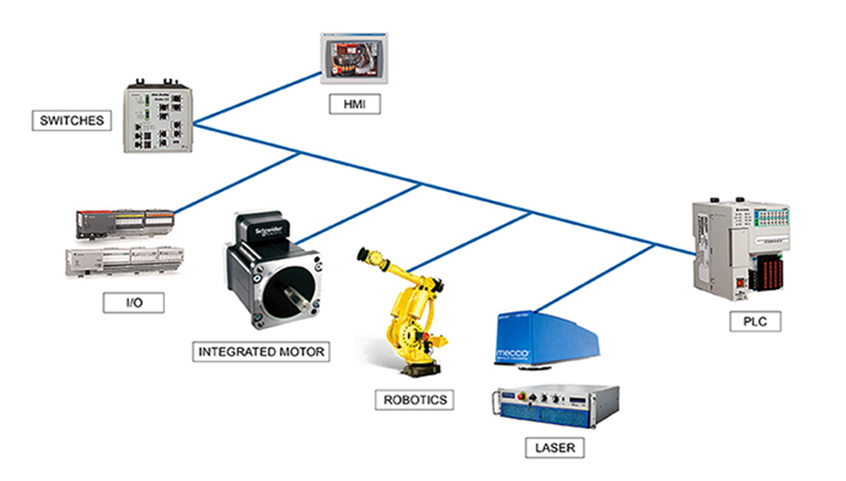 Most factory equipment is controlled through programmable logic controllers (PLCs) to automate processes in assembly lines. While devices such as conveyors, robotics, and vision systems typically communicate directly with a PLC using EtherNet/IP, historically, marking systems have used proprietary Application Programming Interfaces (API's). Until recently, it has been a challenge for those looking to incorporate part marking in their manufacturing process since there was no direct communication with PLCs.
EtherMark® is the solution for direct communication from the PLC to the marking device. Now that laser marking equipment, via EtherMark®, is connected to the factory floor, it becomes easier to implement a traceability system and obtain the benefits of cost reduction and increased efficiencies.
Connectivity in the Automated Factory
This EtherMark® technology enables much faster initial deployment, simpler maintenance and fewer potential points of failure in communication. As an ODVA certified device, Add-On Profiles and Add-On Instructions reduce the programming time from 30+ hours to as little as 8 minutes.
Traceability Solutions
MECCO® laser marking systems are used to etch or engrave serial numbers, barcodes and other information for the purpose of product identification and traceability. In typical manufacturing environments, a MeccoMark® laser is either communicating directly with a PLC or PC to transmit or receive traceability information. In both environments, the communication protocols can vary depending on manufacturing systems. MECCO's traceability solutions are easily configurable and flexible for integration to the manufacturing floor and the enterprise software.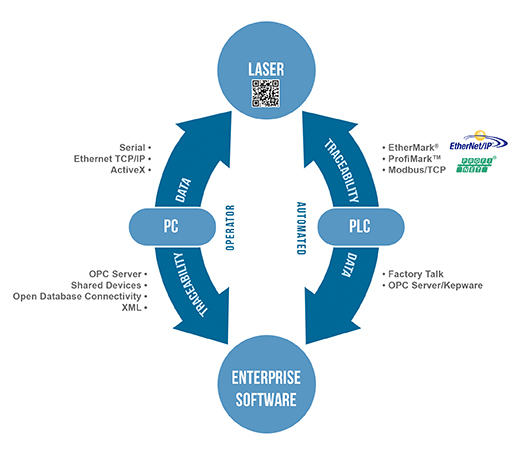 MECCO's system interfaces are easily configurable and flexible with most industrial communication protocols.
Supported Communication Protocols
From Laser Marking System(s) to PC: Serial, Ethernet TCP/IP, ActiveX
From Laser Marking System(s) to PLC: EtherMark, ProfiMark, Modbus
Supported Application Interfaces
From PC to Enterprise Software: OPC Server, Shared Drives, ODBC, XML