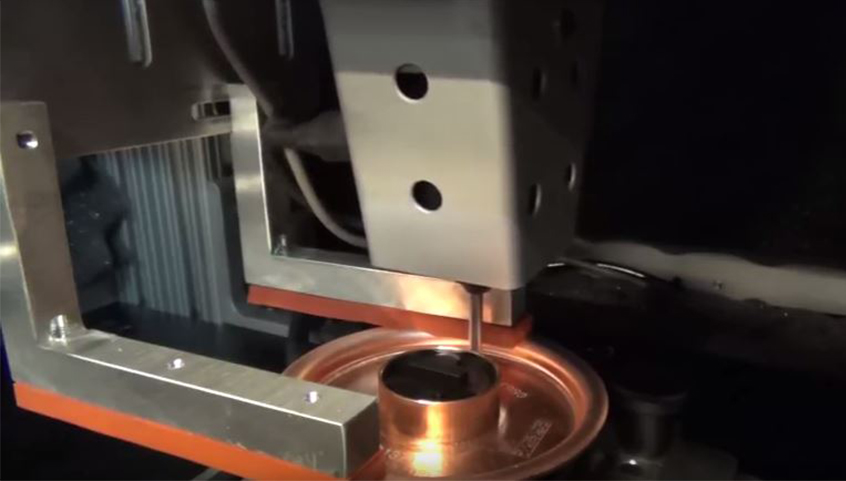 MECCO's dot peen markers are versatile and durable, but in some environments, an impact marker can be too loud.
One customer wanted to take advantage of the mark quality and speed that the COUTH product offers, but had strict requirements for the noise level and safety surrounding the marking equipment.
MECCO proposed a unique configuration of their dot peen marker in order to meet these requirements.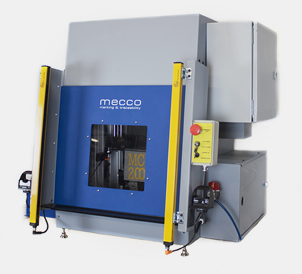 This dot peen marking system was customized to meet low noise requirements. Using an enclosure to house the marking head, it can keep the noise produced during marking contained. The inside walls are covered with a sound proofing material to help absorb the noise.
To address safety concerns, MECCO added light curtains and dual hand controls. Typically used in laser marking systems, these two features add a level of protection against any accidents that could occur by coming into contact with the marking system while it's in use.
Simply place the part inside, activate the hand controls, and the auto door will lower. This ensures that the user's hands are not under the door when it closes. The light curtains prevent the marking process from starting if any object is in in the door's opening.
The fixture inside can be customized to hold the part in place while it's being marked. If the door is opened while marking is in progress, the system's safety interlocks will stop the marker.
Dot Peen Marker Specs:
– Human Readable & 2D Data Matrix
– Type of Part Being Marked: Copper
– Cycle Time: 30 seconds
Do you need permanent marking of text, serial numbers, barcodes or logos on small parts?
MECCO offers a variety of enclosure options that can be modified to fit your application's specifications. Contact us today to discuss your application: