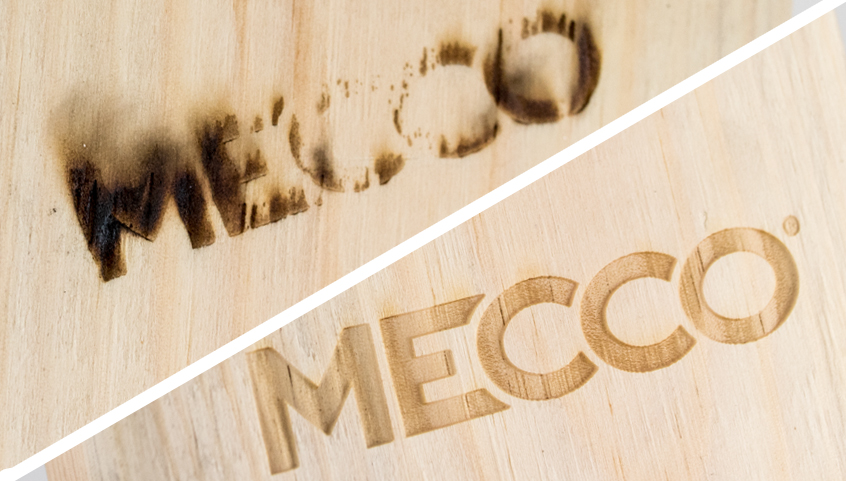 If you're looking for a powerful technology that can be used to create clean, fast, high-contrast permanent marks for branding, identification, and traceability, a
fiber laser engraving machine
or a compact
desktop fiber laser workstation
might be the way to go. Their high peak power and superior beam quality make them ideal solutions for marking and engraving on a wide variety of materials, from steel and copper to aluminum and plastics. However,
don't (I repeat, don't) use a fiber laser to mark or engrave wood.
It can pose a serious fire hazard, which I'll explain why soon.
But, alas, you do have other options, such as a
CO2 laser
, for engraving wood products. Find tips and solutions for laser engraving wood below.


Can a Fiber Laser Engrave Wood?

Like many of our customers, you may want to expand the use of your fiber laser and "get your money's worth" by using it to engrave wood. Or you might be looking for an industrial engraving solution for your wood product. Either way, you want to find the best machine for the job at hand.

However, don't (I repeat, don't) use a fiber laser to mark or engrave wood. It can pose a serious fire hazard, as I'll explain soon.

Now, don't worry. There are many other ways to safely use lasers to engrave – or even cut or weld – materials, which we will also discuss later in this blog. But MECCO does not recommend using a fiber laser for wood applications.

Here's a more in-depth look at why:
2 Why Fiber Laser Engravers Won't Work on Wood
Using a fiber laser engraver on wood is essentially like starting a campfire.

The 1064nm wavelength of a fiber laser transmits partially through organic structures (like wood) based on its shorter wavelength. However, when the beam travels into wood, its absorption can't be controlled. This reaction is caused by variances in the wood material. Heat builds up, and eventually the wood will ignite.

This creates an extremely dangerous situation. The fire will spread quickly with the wood acting as fuel for the intense heat.

Obviously, this is not the result you want. But, there is another key reason why fiber lasers and wood shouldn't mix.

Fiber lasers create poor marks on wood.

The goal of any marking or engraving project is to create a mark that is readable, either by human or machine. Uncontrolled absorption, however, results in an uncontrolled mark on wood. This mark looks uneven, with some places charred and others barely identifiable.

This is probably not the result you're looking for:

A fiber laser creates uneven, charred marks on wood as a result of a short wavelength and uncontrolled laser beam absorption.

The bottom line: Fiber lasers + Wood = Dangerous conditions and poor marks.

When used correctly, however, fiber lasers can be highly effective machines, capable of creating precise, high quality marks. There are plenty of fiber laser videos that show examples of successful laser marking.

What is the Best Way to Laser Engrave Wood?
Don't give up on laser engraving wood yet. There is another type of industrial laser engraving machine that can engrave clean, readable marks on wood, along with other organic materials, saving you rework. It's also more cost effective long term because it reduces the consumable and maintenance costs that often come with ink jet or labels.

A CO2 laser marking machine is capable of successfully engraving wood with logos, serial numbers, 1D or 2D barcodes, and more -- without starting a fire.
(Download our Product Catalogs for MECCO's complete line of laser and pin marking solutions.)

How? Its 10600nm wavelength is ten times larger and is easily absorbed by organic materials, reacting with wood like a true cutting tool.

This video demonstrates how a CO2 Laser engraves clean, char-free marks into wood.
The benefits of using a CO2 laser marking machine include:
Clean and controlled marks on organic materials
Compact and cost-effective, making them popular solutions for companies upgrading from ink jet or labeling part identification methods
Capability to produce quality marks at high speeds, helping operations save costs and improve cycle time

Using a CO2 laser to engrave wood creates a high-quality mark thanks to the even absorbtion that results from a longer wavelength.
Many of our customers have used the CO2 laser to successfully add branding marks or traceability information to their wooden products, including gun stocks, floor planks, pallets, barrels, and furniture.
Case Study: Proud to be Laser-Marked in America
The Challenge
Stanley Furniture wanted a more cost-effective way to enscribe "Made in America" on

their wood products. T

hey wanted a bold look, but also needed to do it in a way that wouldn't slow their manufacturing process.

The Solution
After communicating with the team at Stanley Furniture, MECCO test marked several wooden part samples. We discovered a solution to create a mark that not only met their needs in terms of branding, but also in operational efficiency – using a CO2 laser.

Additionally, the company required

a more efficient way to present the parts to the laser.

The MECCO team worked with our partners to engineer an innovative solution using a Direct conveyer belt and Class 1 enclosure with openings strategically placed at each end for the belt to pass through.

The project wrapped up just in time. Stanley Furnature was able to meet a tight deadline with a quick turnaround thanks to MECCO's CO2 marking solution.
Read the full case study on Stanley Furniture

"I just want you to know that every day you establish work like this in our factory, you set forth a path through which American manufacturing survives and someday thrives!"
- Glenn Prillaman, Stanley Furniture President & CEO
Can a Fiber Laser Cut Wood?
This is one of the most popular questions I get about lasers.
If you're wondering if you can use a laser machine to cut through wood materials, the answer is yes.
As always, though, it's important to consider the materials you're laser cutting to determine the right machine to invest in.
As I explained in this video on
using laser marking machines for other applications
, there are some basic guidelines for laser cutting:
Consider the type of material you want to cut, either organic (wood, packaging, etc.) or non-organic (metal, plastic, etc.).
If you have an organic material, your best choice is a CO2 laser for smooth cuts and minimal discoloration.
If you're cutting a non-organic material, you want to use a fiber laser. They have the power to cut through very hard materials such as metals and metal alloys.
So, again, the CO2 laser wins out when working with wood products. With the capability to operate at a high power and cut through thicker materials, CO2 lasers make the cutting process efficient and deliver precise results for organic materials.
Here's a demo of a CO2 laser machine cutting paper:
The Best Laser Engraving Solutions for Small Businesses
If you're a small business searching for the best way to laser engrave your product, there are a lot of options. You probably already know that laser marking can save you time and money, so you may be tempted to go with the most affordable desktop laser engraver and call it a day.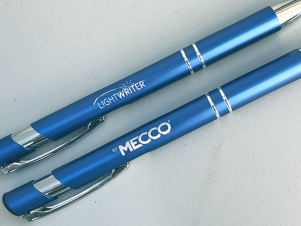 But like most things, with industrial-level laser marking machines, you get what you pay for. Here are a few key features to help you narrow your list of entry-level laser engraver and find the right one for your operations:
Versatility
For small businesses, including job shops, a versatile fiber laser marking machine is a valuable asset. Fiber laser engravers are known for their ability to quickly and easily mark a range of materials, from metals to plastics. Create serial numbers, bar codes, 2D Data Matrix, and graphics as well as customization with high quality industrial fiber laser markers.

Easy to use
Some machines will come with a lot of bells and whistles, but basically, the more complicated the machine, the more complicated it will be to operate. Look for simple design and plug-and-play operation to save you time and frustration. Additional features like a real-time visible live pointer that allows you to preview your mark is a helpful tool as well.

Excellent customer support
This is one area I always tell people to insist on when they're in the market for industrial laser marking equipment. While it may be easy to use, you also want that added insurance of a machine backed by great customer support. The vendor should be able to answer your questions and troubleshoot with you if needed. This way you're not wasting your time on hold, especially if a machine is down.

You also want a warranty on parts and labor, including on-site repairs. That shows that the vendor has confidence in their product.

Safety
Even if this is your first laser marking machine, you probably know they come with an inherent risk. You must take certain precautions to keep yourself and everyone in your area safe. A Class 1 laser enclosure reduces risk by forming a protective housing around the laser machine and preventing exposure to the powerful laser beam.

Compact design
You'll notice the designations "Desktop" and "Tabletop" as you research laser marking systems. There's no complicated terminology here; that just means that the unit can literally fit on a desktop or tabletop.

This is an important feature for a small business that wants to maximize space. While a compact system saves space, pay attention to maximum part dimensions to make sure your product will fit inside the machine.

What Else can Laser Machines Do?
As you can see, laser technology has many uses and applications, which is why it's used in a wide variety of manufacturing operations large and small. But, what else can laser machines do?
​
Laser Plastic Welding
One increasingly popular application, especially in the
automotive
and
medical
device industries, is
laser welding
. In fact,
reports
predict that the laser plastic welding market will expand at an 8.3 percent compound annual growth rate from 2017 to 2025.
The intense heat that laser welding creates melts the plastic together, forming a tight seam at high speeds. This technology provides a cleaner, faster, more cost effective welding method that helps manufacturing companies stay competitive by utilizing innovative technologies. And as a non-organic material, we recommend fiber lasers in most plastic welding applications.
Other Laser Machine Capabilities
While fiber laser engravers deliver valuable versatility, ideal speed, mark quality, and other benefits to manufactuers across industries, from automotive and aerospace to electronics and medical devices, they're not always the best option for
every
application. It's a matter of having the right tool for the right job. A solution that works wonders in one application can be a complete fail in another.
When working with wood or any other materials, it's important to understand how it will react to different types of lasers. Start by asking these questions as you're considering industrial laser equipment options:
Does it pose any safety risk to my operators?
Will it allow me to achieve my desired mark, cut, weld, etc.?
How will it alter my current processes?
I hope we've been helpful in answering your "burning" questions about laser marking on wood and other materials. There are plenty of options when it comes to finding the right technology for your operation. You can always
contact us
, and the MECCO team and I will be glad to work with you to get the results you need.
Have you tried laser marking on wood? How did it turn out? Leave us a comment below!