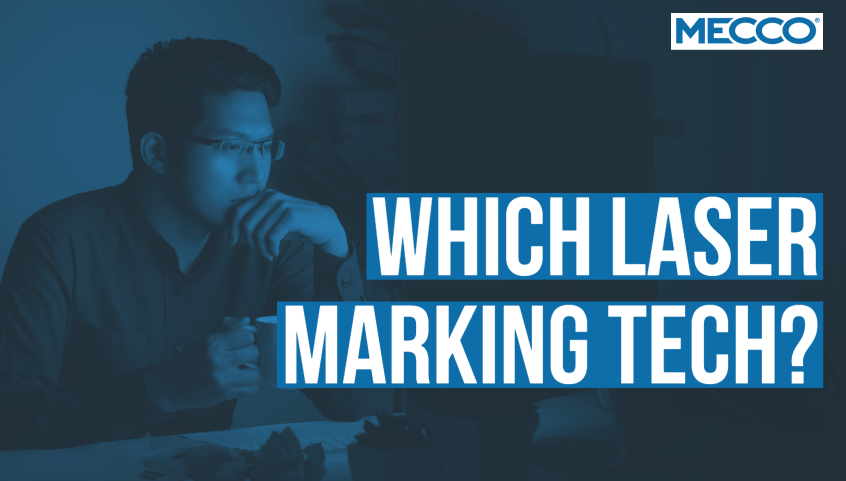 You have a project that requires permanently laser marking your products. Whether you need it soon (yesterday?) or a year down the road, it's never too early to start your search when buying laser marking technology for your business.
Just be prepared. Finding the
best industrial laser engraver
or laser marking system can take time. Be sure to carefully examine not only the technology but also the vendor you plan to purchase from. Are you happy with their customer service? Do you feel confident in their team? Do they have a proven track record of success with companies like yours?
The right machine
and
the right support will be the keys to getting your machine up and running quickly and successfully – and keeping it that way for the life of your system.
So let's say you've determined laser marking is the way to go for this application. (Other methods include
pin marking
, labels, and more.). Now it's time to determine which type of machine is right for your operation: a cost-friendly, reliable machine that easy to operate or a smart, connected system with integration options?
Here, you'll find a brief assessment to help you decide which type of laser marking technology you should focus on during your search. We've broken it down into three parts – Materials, Manufacturing Process, and Integration – to give you a 360
o
view of your solution.
But, while this assessment can help point you in the right direction, I always recommend
talking with a laser marking expert
and
requesting product sample marks
before investing in any marking equipment.
Assessment: Discover Your Best Industrial Laser Engraver Machine
Keep track of your answers and tally your As, Bs, and Cs. Then discover the path you should take to get the best industrial laser engraver for your operation.
Part I: Materials
1.
What material(s) are you marking?
A. Metal, steel, aluminum, plastics

B. Wood, paper, cardboard, glass

C. A combination of these or other materials
2.
What is the maximum height of the parts you want to mark?
A. Up to 305mm (12in)

B. Up to 648mm (25.5in)

C. Greater than 648mm (25.5in)


Part II: Manufacturing Process
3.
In what area of your operation will you be marking parts?
A. We will be marking on an open shop floor.

B. We have a dedicated area that follows appropriate laser safety standards.

C. Not sure
4.
How will your operation load and unload parts to be marked?
A. Manually

B. Automated via robot or other technology

C. Not sure
5.
What is the main objective of your marking system?
A. Engraving date, batch, or serialized information or simple graphics for identification

B. Marking readable 1D or 2D barcodes for track and trace

C. All of these things
6.
How important is cycle time and/or throughput to your operation?
A. Important – our production volume is low and/or our product mix is high

B. Very important – our production volume is high and/or our product mix is low

C. Extremely important – we need a better marking process that reduces cycle time and increases throughput
7.
Aside from cost, what is the most important criteria in your marking solution?
A. Ease of use

B. Ability to integrate into a manufacturing line

C. Other


Part III: Integration
1.
Do you want to connect your marking machine to a database?
A. No, our process is mostly manual

B. Yes, we want to automate quality control and other factors

C. Not at this time, but we may want to in the future
2.
Where in your manufacturing process will you be marking products?
A. At the end of the process only

B. Throughout the process

C. Not sure


Find Your New Laser Marking Technology
Now that you've taken the assessment and tallied your answers, let's discover your best laser marking system options.
Mostly A's
If you answered A to most of these questions, we have good news. You have a wide variety of laser system options to choose from. Based on your criteria of marking inorganic materials like metals and plastics and on your manufacturing process, your operation should be well suited for a:
Desktop or Tabletop Laser Marking Workstation
Most desktop and tabletop laser marking workstations are all-in-one systems that include a laser source and marking software. The laser resides in a compact Class I safety enclosure, which is a convenient choice for many operations since it has a small footprint and doesn't require extra laser safety precautions, such as a laser-safe area.
This type of system can also be more economical than some other alternatives. It uses minimal power while delivering fast, industrial-quality marks, from serial numbers to a Data Matrix. One factor to remember is that some vendors will try to sell you more bells and whistles than you need (or want to pay for). Don't fall for buying more features than your process calls for.
But, that said, do consider your future needs. For example, you may want to integrate a vison system for mark verification to reduce mistakes and ensure readability. Or you might want to collect data on your products to maximize productivity and visibility. Your best bet is to balance current needs with future goals.
Recommended Product:
LightWriter™ by MECCO® Laser Marking Workstations
Discover this innovative range of easy, economical, all-in-one industrial fiber laser marking workstations that gives operations the freedom to tackle any task with the most well-designed, American-made system in its class. These marking systems – available in tabletop and desktop models – include a powerful 20W or 50W fiber laser inside a sturdy welded steel Class 1 enclosure to maximize safety. Its sturdy modular design, user-friendly software, and cost-effective operation result in easier, more economical laser marking.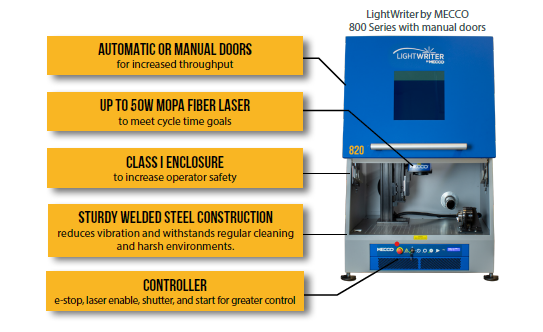 Mostly Bs
If you answered mostly Bs, your operation is ready for a more advanced laser marking system. You need to mark a lot of products and do it quickly, making cycle time and throughput maximization critical. You're looking for a high level of automation and may want to integrate a robot or vision system or enable your machine to communicate with a database. Take a look at:
Connectivity- and Integration-Ready Laser Marking Workstations
When you sync your part marking with other parts of your manufacturing process, you can reap a spectrum of benefits. From reducing waste and downtime to increasing throughput and
inventory accuracy
to minimizing
counterfeiting risks
, a connected laser marking system can be a smart long-term investment.
Traceability
, the process for locating components and their appropriate history throughout their life, can help manufacturers solve the challenges they face in Industry 4.0. Connected, integrated systems can deliver visibility of the entire lifecycle of each part and maximize data value to quickly spot production issues or trends and make proactive improvements.
Recommended Product:
Seize the digital future with marking systems with advanced automation options, enabling smarter, more productive operations. Engineered in the U.S. with the highest quality materials, the LightWriter PRO Connect series takes your operation to the next level. Choose from advanced automation options to connect and integrate your marking system for increased efficiency and productivity.
These options include:
Database connectivity via GUI (graphical user interface) or EtherMark
2-position dial index options on certain models
Fixtures, XY table, and/or vision
Pass-through option
Robot, stack light, and/or HMI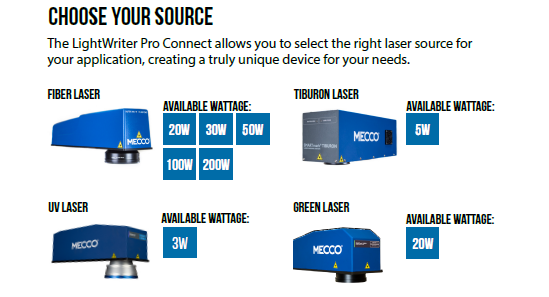 Mostly Cs
If you answered C for most of these questions, there are several options that may fit your needs. You may be working with unique products. Or perhaps you don't need advanced automation features now but want the flexibility to use those features in the future. Maybe you know you need laser marking but not exactly sure how to get started.
Not every answer is straightforward. The important thing for you is to work with experts who can guide you to the right solutions. You've done the research, and now the right team can help you make your vision a reality.
Recommended Products:
LightWriter™ by MECCO® Workstations
LightWriter™ PRO Connect by MECCO
®
Workstations
SMARTmark™ OEM Systems
Let us help you. Contact MECCO today to see a demo or talk with a laser marking expert.
Beyond engineering the industry's leading laser marking technologies, MECCO is known for creating some of the most advanced laser and pin marking solutions. From innovative
anti-counterfeiting traceability marks
to fully connected systems, our customers have been able to solve any unique challenge with our
turnkey laser marking systems
.
Now we've focused our experience and problem-solving mindset to deliver the new technologies our customers need like the
LightWriter by MECCO
and
LightWriter PRO Connect by MECCO
laser marking workstations. Plus, our proprietary laser marking software
WinLase™
is specifically engineered to sync seamlessly with your MECCO machine.
So your one-millionth mark is a good as your first.