This month's featured laser marking system is the MeccoMark Rotary Workstation, customized for an application that had the following goals: optimize the marking cycle by putting the maximum number of parts in at once, be able to see inside the enclosure for setting up a job file, and have easy access for maintenance.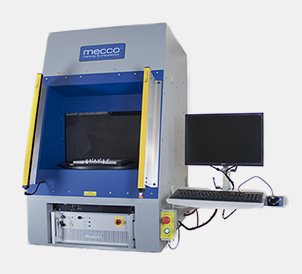 To do this, Mecco started with a standard laser marking rotary workstation. These systems are very appealing to those looking for a way to load and unload parts while the laser marks inside the Class 1 enclosure. They are available in 2 position or 4 position configurations for Mecco's standard, large and XL enclosures.
To meet the goal of optimize the marking cycle time and reducing operator load time, the fixture was customized so that a total of three parts were able to fit into the size of the marking field. The operator would be able to load the parts three at a time and ensure a correct mark every time.
Another requirement for this application was to be able to monitor inside the enclosure while the job file is being set up. MeccoMark laser marking systems utilize a real-time visible live pointer, which provides an easier interface for previewing your mark in order to minimize setup time. To still allow the user to benefit from this feature, Mecco installed a webcam that provides a feed to the PC monitor. Operators can easily see the live pointer when setting up the file, as well as monitor the progress of a mark being made.
Finally, the customer wanted to have easy access for maintaining their laser marking system. Mecco's side door option for enclosures provided an easy way to enter the main compartment, with safety interlocks that prevent the system from marking if the door is not closed.


Laser Marking Rotary Workstation Specs:
- MeccoMark 50W Fiber Laser Marking System
- Mark type: Human readable text
- Type of part being marked: Steel
- Cycle Time: 12.54 seconds
Do you need permanent marking of text, serial numbers, barcodes or logos on small parts?
Mecco offers a variety of enclosure options that can be modified to fit your application's specifications. Contact us today to discuss your application: