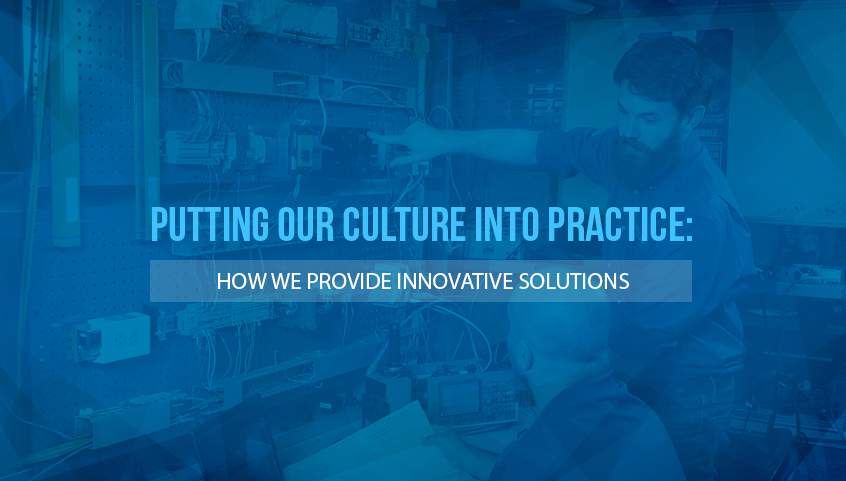 Look up the term "innovative" and you'll learn that it's an adjective to describe a person who "introduces new ideas; is original and creative in thinking." It also defines a product that "features new methods; is advanced and original." At MECCO, innovation drives every product we deliver and every interaction we have – be it with our customers, professional partners, and each other. In today's Align with Nine blog post, we detail our Core Behavior #1: Provide Innovative Solutions.

To bring our innovation-first commitment to life, we share commentary from a wide range of our team members. You'll hear from a few of our engineers, product managers, sales directors and more. Each team member defines "innovation" in his or her own terms, and how it translates into our rallying cry: to deliver innovative relationships and innovative solutions, and to do so collectively and unwaveringly.
Innovation: Thinking and Acting with an Open Mind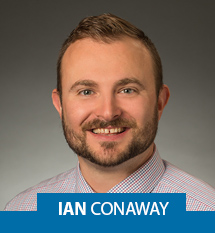 Let's begin with Ian Conaway, an Engineering Manager who has been a member of the MECCO family since the start of his career 13 years ago. Ian describes innovation as being rooted in having a "yes" attitude. "It's about having a commitment to finding a way to make things work. To pursue a win/win for all parties," says Ian. A father to young children, Ian believes that innovation is the willingness to keeping "a child-like mentality. To always asking the 'why' behind everything, and never losing our innate, child-like curiosity."
Bill Holtzman, a Strategic Market Development Manager, echoes Ian's sentiments about innovation being grounded in a "yes" attitude, and applying that attitude to yield innovative solutions. "Innovation is about turning obstacles into opportunities," says Bill. "It's the ability to re-frame the mindset: instead of seeing a limitation to what can be achieved, you instead turn that [perceived] roadblock into a chance to create something new."
Rose George, a Sales Engineer with extensive mechanical engineering experience, also believes that innovation comes with the mindset of "continuously growing and learning." In fact, MECCO's commitment to innovation is one of the deciding factors that convinced Rose, a recent addition to the MECCO family, to join our team. "At MECCO, we're championed to never stop researching, and to believe that no idea is a bad idea," says Rose. "Here, we're given the freedom to try new things, to test new products and technologies. The team here fully understands that by taking smart risks, we open up the opportunity to create and deliver an innovative solution to our customers."
Innovative Minds Yield Innovative Solutions
Ask Chas Barger, a Service Supervisor, how our innovation-first mentality results in innovative solutions, and he'll tell you that it begins with the expertise and skill of our team members. "For years, we've taken projects that others in the industry have turned away," says Chas. "Because of that, we've sharpened our blades when it comes to tackling even the most difficult problems. We apply an innovative way of thinking to finding a solution that has not yet been found, and getting that solution into the hands of our customers."
Peter Sweet, an Inside Sales Manager, believes that finding innovative solutions begins with developing a solutions-driven partnership up front, rather than as an after-market service. "From the very beginning, we commit to providing our customers with a full solution rather than a laser in a box," says Peter. "We take each customer through the steps, from the very beginning of the application to designing the right system to fit their needs."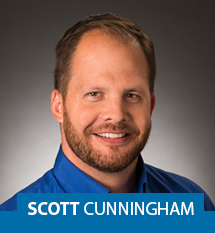 For Scott Cunningham, a Strategic Market Development Manager, innovative solutions are only found when we "step back and consider what is needed." He takes great pride in MECCO's commitment to developing the right solution for the challenge at hand. "Many other companies out there will just retrofit a solution to a problem. At MECCO, we don't make rote judgement calls. We commit to finding the right laser for the right application," says Scott. "Often times, we find that there's more than one way of arriving at a solution. We don't stop until we provide the optimal solution."
When considering what innovation means to the MECCO team and the customers we serve, Dave Sweet, our President, believes that collaboration is a major ingredient. "We don't have any superheroes here," says Dave. "Everyone here is part of the team, and their input is needed to provide the innovative solutions that characterize who we are and what we do. That's why we commit to a mindset of innovation – with ourselves and for our customers. At the end of the day, we're all in this together."
Tune in for our next installment of the Align with Nine blog post series, when we dive into Behavior #2: Create Win/Wins.