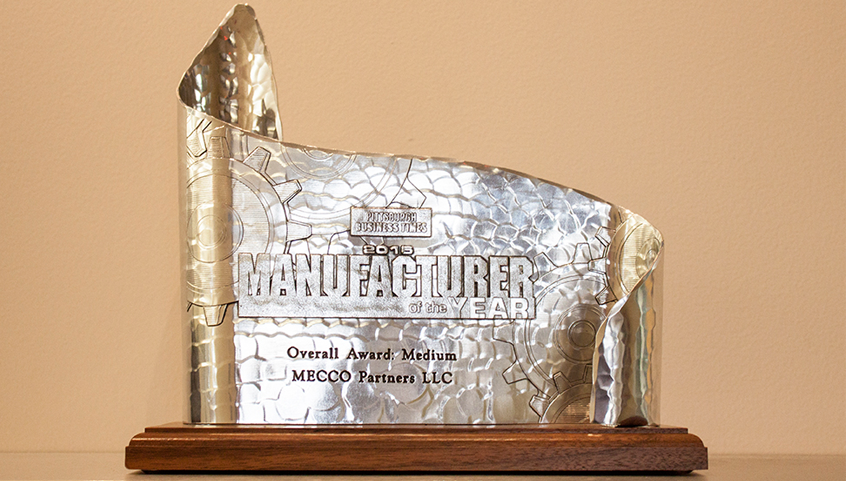 MECCO was recognized as the 2016 Manufacturer of the Year in the mid-size category at a ceremony hosted by The Pittsburgh Business Times on December 1, 2016. MECCO's president, Dave Sweet, accepted the award on behalf of the company.
The event was located downtown at the Omni William Penn Hotel, where many local manufacturers were in attendance. As MECCO was recognized, a video was played for the audience to tell the story of MECCO's impressive results while showing what the company manufactures.
"You can't do those amazing things without amazing people. I'm just really proud to represent the team at MECCO, the men and women who work extremely hard to really change the direction of the company," said Sweet.
That change has seen the company go from hammer-and-chisel type of hand stamp technology to a premiere automation manufacturer using lasers and robotics throughout its 127-year history.
Sweet continued by thanking the local community. "Pittsburgh is such a wonderful area, where it really supports business and entrepreneurs," said Sweet, adding that organizations like Catalyst Connection, IEE and SMC have played a big role in helping grow local manufacturing.
MECCO competed with seven other finalists in their category. Also taking home awards were Alled Lighting with the Sustainability Award and Robinson Fans Inc. with the Premo J. Pappafava Family Business Award.
You can read the Pittsburgh Business Times' story on the history of MECCO here.
Images of the event can be seen here.