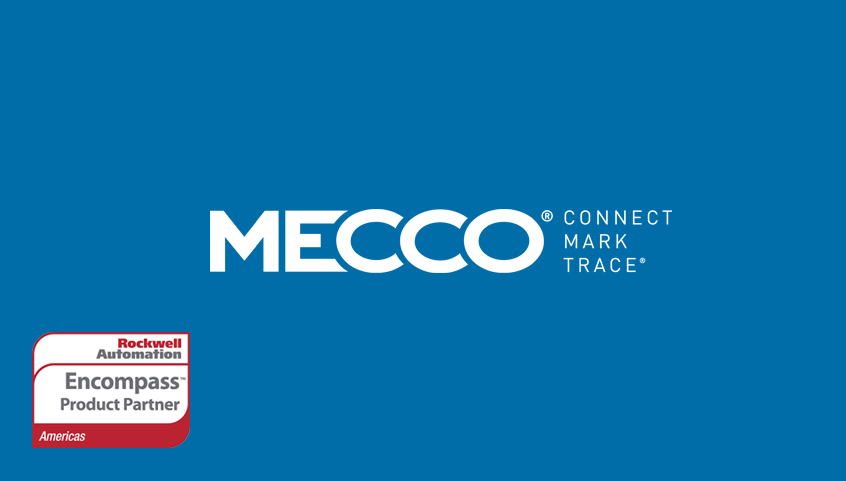 MECCO's EtherMark-enabled products have been accepted into the Rockwell Automation Encompass™ Program as a referenced product. EtherMark® is the first commercially available solution for laser and dot peen marking systems to connect and communicate directly with factory floor PACs / PLCs using native EtherNet/IP™ protocol. EtherMark is ODVA compliant, meaning that it is a certified EtherNet/IP™ solution.
MECCO® participates as an Encompass Americas Product Partner in the Americas Rockwell Automation PartnerNetworkTM,. Through Encompass Product Partners, customers can quickly locate complementary products that best solve any application challenges. These products are critical components or connectivity solutions that extend and enhance Rockwell Automation installations.

Simplifying Marking Equipment Integration
EtherMark enables marking equipment to be controlled by the PAC / PLC via EtherNet/IP.
"Traditionally, those wanting to incorporate part marking in their manufacturing process faced a significant challenge. Custom interfacing had to be written via a RS-232 or TCP/IP interface to integrate laser or dot peen marking equipment," explains Dave Sweet, President of MECCO.
EtherMark produces an EtherNet/IP™ solution that significantly reduces custom programming and eliminates the need for fragile PCs on the shop floor.
Thus, what typically might have taken 30 or more hours of programming and integration work while using other marking systems now may be reduced to as little as eight minutes using EtherMark with the included Add-On Profile.






EtherMark Features:
• Directly load part marking jobs from the PAC /PLC: No PC required on the factory floor
• Reduces integration time from 30+ hours of custom programming to as little as 8 minutes
• Add-on instructions allow for drag and drop ladder logic programming of MECCO laser and dot peen marking systems
• Add-on profiles provide plug and play compatibility between MECCO marking devices and Allen Bradley® PACs / PLC's.
• ODVA compliant EIP/CIP object model interface
Saving Time and Improving Quality Control with EtherMark®
"Our customers' feedback so far has been fantastic," said Sweet. "They love the technology, and now it makes their life easier. They no longer have to learn custom code; they can integrate our laser and dot peen markers using the same software they currently use today."
"We've seen customers who have had problems communicating their information, or having wrong information marked on a part, migrate to using EtherMark because of the assuredness that they get knowing that the correct mark is going to be placed on the part every time," explained Simon Kohnstamm, Technology Manager at MECCO®.

"In the custom automation world, we are looking for the best and easiest ways for communication between components during our integration," said Michael Proulx, Senior Electrical Engineer at RT Engineering Corporation in Franklin, Mass. "Mecco's EtherMark fit our needs. Our Senior Controls Engineer commented that integration with EtherMark was much better and faster than our past integrations."
About MECCO
Founded in 1889, MECCO is a leading U.S. based manufacturer of industrial part identification systems, offering a full line of laser and dot peen marking technologies. MECCO provides solutions that, by connecting to the factory floor, create an automated marking process for full traceability implementation. Throughout the evolution of new marking techniques, MECCO has helped customers determine the best technology for their application, and the company uses its extensive experience to enable a greater understanding of the marking needs of today while providing a vision for developing the technologies of the future.
About the Rockwell Automation PartnerNetwork Program
The Rockwell Automation PartnerNetwork program offers global manufacturers access to a collaborative network of companies mutually focused on developing, implementing and supporting best-in-breed solutions to achieve plantwide optimization, improve machine performance, and meet sustainability objectives.
About Rockwell Automation
Rockwell Automation, Inc. (NYSE: ROK), the world's largest company dedicated to industrial automation and information, makes its customers more productive and the world more sustainable. Headquartered in Milwaukee, Wis., Rockwell Automation employs about 22,500 people serving customers in more than 80 countries.