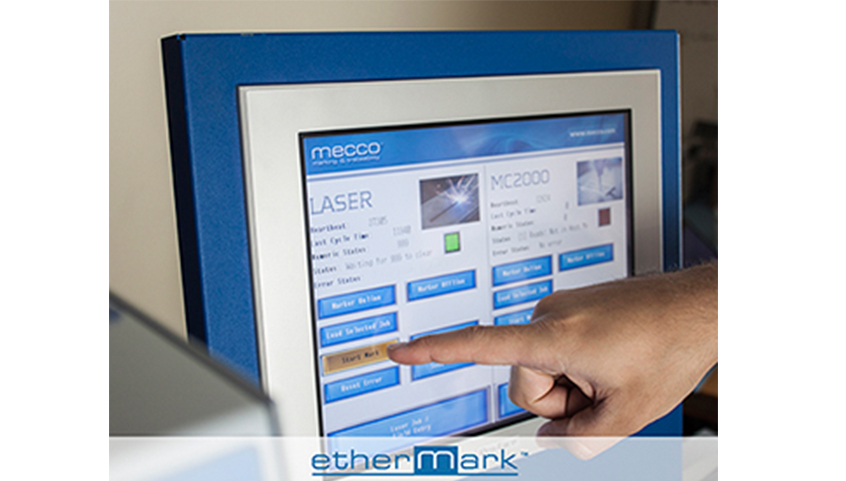 How three companies have improved their processes with the new native EtherNet/IP Marking Device Integration

Most factory equipment is controlled through programmable logic controllers (PLCs) to automate processes in assembly lines. While devices such as conveyors, robotic devices, and vision systems typically communicate directly with a PLC using EtherNet/IP™, historically, marking systems have not. Therefore, it has been a challenge for those looking to incorporate part marking in their manufacturing process since there was no easy means of communicating with PLCs. Custom interfacing needed to be written via a RS-232 or TCP/IP interface to integrate laser or dot peen marking equipment.
As a result, establishing communication between PLCs and marking devices had historically required several days of effort and custom programming to create a communication link between the PLC and the marking device API (Application Programming Interface). Each marking device vendor uses a proprietary API, which forces programmers and engineers to learn specific commands only applicable to a single device.
On average, a company would spend approximately 30 or more hours writing the initial communication protocol between the PLC and the marking system. In addition, whenever PLC or marking system software or firmware upgrades are introduced, the entire laborious process of upgrading and testing the integration must be repeated.
Faster Implementation Solution
For machine builders, shortening implementation time for customers is a constant challenge. RT Engineering Corp. in Massachusetts was faced with this challenge during a project with a bioscience manufacturer that needed to mark on plastic medical devices. They chose EtherMark™ from Mecco® Marking & Traceability because of its simplicity.
"In the custom automation world, we are looking for the best and easiest ways for communication between components during our integration," explains Michael Proulx, Senior Electrical Engineer at RT Engineering Corporation. "Ethernet has been our preferred method for some time, and Mecco's EtherMark™ fit our needs."
Proulx's Senior Controls Engineer reported to him the improvement in speed over past integrations.
"He commented that integration with EtherMark™ was much better and faster," said Proulx. "The integration was easy, and whenever our client requested changes, being able to handle the changes [remotely] was extremely convenient," said Proulx.
What is EtherMark™?
The patent-pending EtherMark™ package, available exclusively through Mecco® Marking & Traceability, allows marking systems to connect and communicate directly with factory floor PLCs. This new technology significantly reduces custom programming and eliminates the need for fragile PCs on the shop floor.
EtherMark™ makes it possible for marking equipment to be controlled by the PLC via EtherNet/IP™ like the rest of the factory machinery, using only one command for marking a job file.
The 30+ hours of programming and integration work that other marking systems require can be reduced to as little as eight minutes using EtherMark™ with the included Add-On Profile.
This simpler configuration enables much faster initial deployment, simpler maintenance and fewer potential points of failure in communication.
Overcoming Communication Failures
An automated manufacturer of home-building materials was experiencing failures with serial communication.
Without much consideration for the method of communication, this company had purchased nine laser marking systems that use RS-232 direct serial communication. These systems were intended to integrate with their Allen-Bradley PLCs to communicate with the rest of their process and automate the marking of serial numbers on their wood, plastic and composite parts.
Unfortunately, the company discovered that this type of communication did not provide confirmation that the information was properly communicated to all devices. This left them unable to verify that data had been updated or that the right information would be marked onto the right part.
"About a dozen times a day, the serial communication would not update the information we were marking, causing duplicate serial numbers," explained the Controls Engineer, Jason.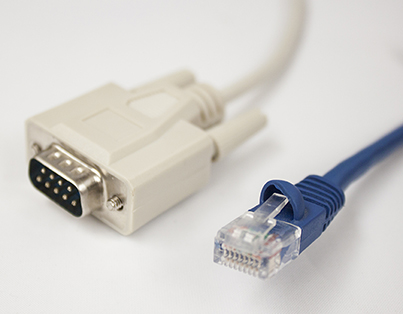 The company needed a new communication method that allowed for rigorous communication on a consistent basis. EtherNet/IP™ is the logical method to do this, as it is meant for industrial situations and ensures that communication works the way it should every single time. EtherNet/IP's inherent checksumming, data verification and packet loss detection, combined with EtherMark's checksum routine, ensures that information is freshly populated every time a mark is made.
The additional costs incurred due to errors were so great that the manufacturer decided it would save money to swap out all nine of the previously purchased lasers and replace them with MeccoMark® Laser Marking Systems with EtherMark™.
"We chose EtherMark™ because we were looking for something that would allow us to reliably change the information being marked every cycle from the existing PLC," said Jason. "It was very simple to set up; no different from adding any other Ethernet device. With the supplied EDS, we didn't even have to spend time mapping and labeling IO. "
Isn't this technology already available?
Considering the reliability and prevalence of EtherNet/IP™ communication, it is common to think that this technology already exists and was readily accessible from marking device manufacturers.
A manufacturer of plastic injection molded components for the automotive industry experienced this confusion first hand. When shopping for a laser marking system, the ability to communicate via EtherNet/IP™ was a primary concern. They use EtherNet/IP™ to simplify and streamline their production cells, so it was a requirement that any marker that goes on their assembly line had to use EtherNet/IP™.
"We were searching for a laser marking system that connected directly using EtherNet/IP™. We chose a vendor because we believed they used this technology," said Russ, the manufacturer's Controls Manager. "But when we tried to install the laser, it didn't work. We found out it was actually Ethernet TCP/IP."
While other suppliers claim to offer EtherNet/IP™ integration for marking systems to communicate with PLCs, they are actually referring to one of two options:
After the failed install of the previous system, the Controls Manager searched for a true EtherNet/IP™ solution. The result?
"We found that Mecco® is the only provider of a true, native EtherNet/IP™ communication solution. Their EtherMark™ product works flawlessly and saved time," said Russ.
The First EtherNet/IP Marking Device Integration Solution
Mecco® dedicated significant resources to research and develop a solution to one of the most common problems heard in the industry - bringing marking devices online in the same easy manner that other factory equipment integrates.
EtherMark™ is ODVA compliant, meaning that it is a certified EtherNet/IP™ solution. ODVA testing is rigorous to ensure that our implementation of EtherNet/IP™ will work alongside your existing devices without interfering with network-wide communication and will not fail on your plant floor.
If marking automation needs to be added or improved on an assembly line, using EtherMark™ to allow marking devices to communicate directly with PLCs will result in lower cost, greater uptime and more factory throughput with less hassle and frustration for engineers, quality assurance departments, factory personnel and management.