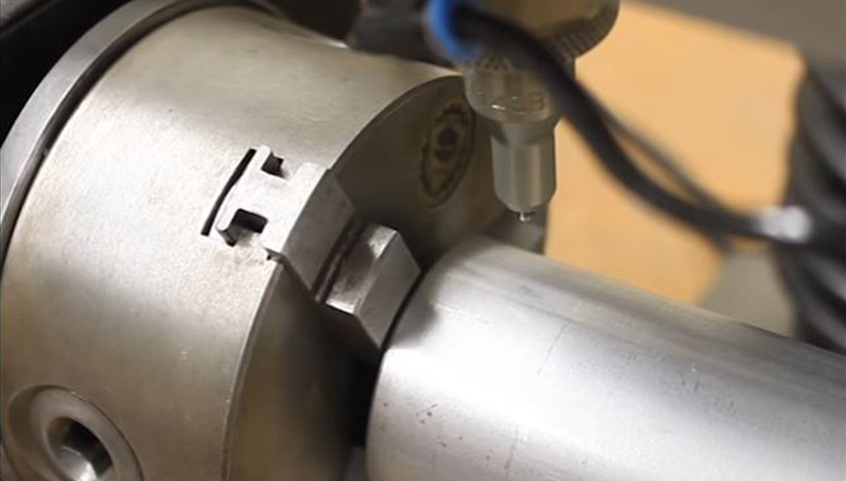 This demo video shows our dot peen marking equipment with the benchtop mounted rotary chuck. This add-on to the COUTH line of dot peen and Vibra Peen products allows for circumference marking with our standard marking heads.
Take advantage of the proven reliability and speed of the COUTH dot peen markers for round part applications. Adding a rotary chuck allows you to mark without the restriction of having to mark down the flat length of the part.
Controlling the Rotary Chuck
The rotary chuck mounts to a standard benchtop dot peen unit. It has the ability to chuck the inner diameter or outer diameter. In this video, you can see the unit marking a long string of human readable text around the circumference of the part. This can be programmed using the T2 Controller which is standard and universal for all of our pin marking systems.
Experience the same features as if you were marking on flat parts. The T2 controller makes it possible to easily adjust character compression, expansion, spacing and dot density. It is the most flexible and powerful tool of this kind in the market. It does not require a PC, and can use SD cards for storage and transfer.
Dot Peen Rotary Chuck Demo Specs:
- COUTH Benchtop
- 3 Jaw Rotary Chuck
- Maximum Capacity: 80mm, 11 lbs
- Larger sizes available

If you need to permanently mark round parts, contact Mecco to discuss your application and see a demonstration!