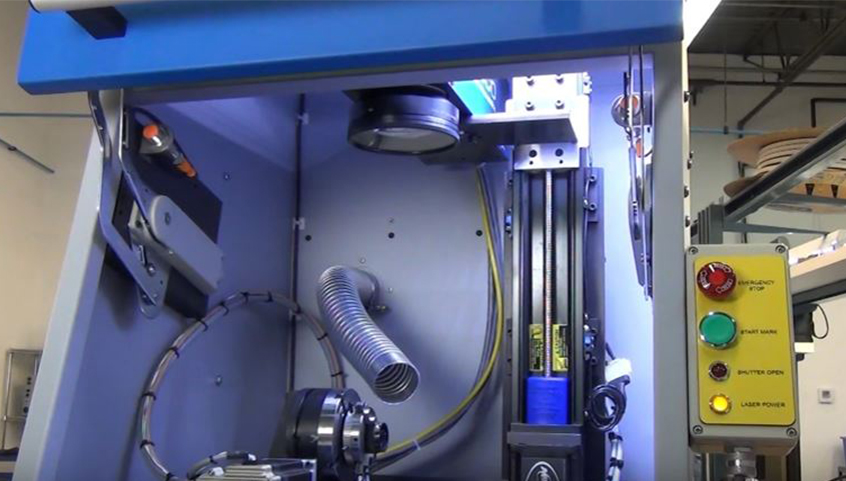 Mark Round Parts with Ease using a MeccoMark Enclosure and Rotary Indexer
This month's featured "Machine of the Month" is a MeccoMark Standard Class 1 Enclosure that has been modified for an application requiring the ability to mark round parts.
This Class 1 enclosure laser marking system is equipped with an adjustable 3-jaw chuck rotary indexer to mark round parts, an affordable option that allows for more adjustment capabilities.
Using a programmable Z axis to focus the laser allows you to save Z axis settings per individual job files. For versatility, the rotary indexer can also be removed from the enclosure. Utilize the full space of the enclosure for different laser marking applications without needing a second laser.


Laser Enclosure with Rotary Indexer Stats:
– MeccoMark 20W Fiber Laser Marking System
– MeccoMark Standard Class 1 Enclosure
– 3 Jaw Chuck Rotary Indexer
– Mark Type: Thermal
Do you have round parts that you're looking to permanently mark?
Mecco can add a rotary indexer to different laser configurations. We'd be glad to discuss your application to see which configuration would work best considering the size of the part you want to mark, where you'll use the laser, and other specs that you have. To discuss your application or receive sample marks directly on the parts you're looking to mark, contact the Mecco® Laser Team today!