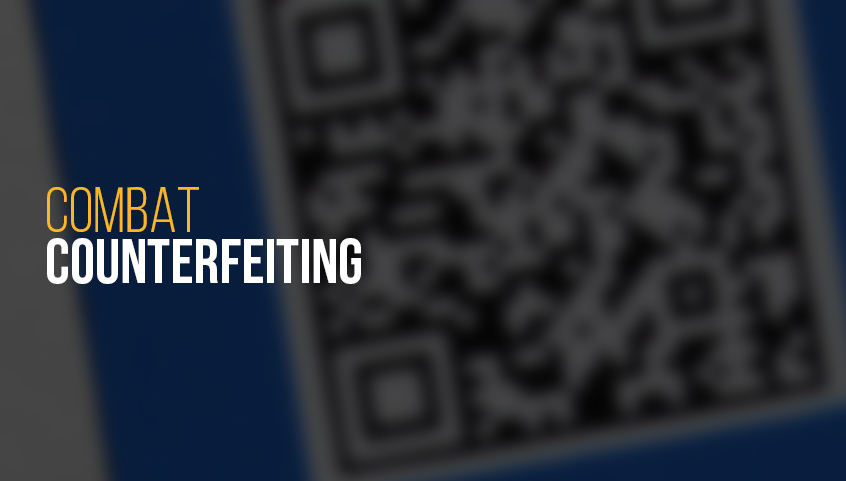 Each year as much as $500 billion of U.S. trade* is lost to a manufacturing epidemic that proliferates in industries from automotive and aerospace to pharmaceutical and electronics — counterfeit and diverted goods.
The two main channels – counterfeit goods and the discounted grey market, which includes production overrun, and diversion within the distribution chain – have profited from this tactic for years, reproducing, returning, or reselling products such as airbags, electronics, and medical devices. And while stricter regulations have been put in place to counteract counterfeit and grey market activities, it remains a critical threat to OEMs.
That's because fraudulent products not only diminish your brand equity, they can also directly impact your bottom line in the form of liability, warranty fraud, and other expenses. Faced with these challenges, how can OEMs (and their teams of legal experts) find a solution to beat counterfeit and grey market channels at their own game?
For an increasing number of companies, the answer is track-and-trace technology with direct part marking.
Looking the Part: Counterfeit Products Look Surprisingly Authentic
The problem with fraudulent goods today is that they look like the original on the outside, even down to the replicated marks. This makes it challenging for OEMs to authenticate their products. As a result, companies and legal teams are unable to prove false liability and avoid return, repair, and replacement costs.
So, how can you efficiently identify and distinguish genuine products from fraudulent? Depending on how much your company is able to invest in product authentication, there are three main levels of anti-counterfeiting measures you can take:
Level 1: Basic Anti-Counterfeiting: If your company is just exploring anti-counterfeiting measures, direct part marking of a serial number (human-readable text) is a basic, and permanent, strategy used by many OEMs to identify parts.

Labels that include a serial number can also be placed on parts. However, this is not always a permanent solution because counterfeiters and diverts can alter or remove labels.
Level 2: Advanced Anti-Counterfeiting: While part marking or labeling serial numbers can help identify products, the next step up is to include a barcode, such as a 2D data matrix, to link the product back to the rest of your production data. Information is housed in a database, and any missing data or discrepancies found on a barcode can quickly identify non-authentic products.

Level 3: Sophisticated Anti-Counterfeiting: Advanced technology has given way to even more integrated and effective track-and-trace technologies. Companies can now add a unique identifier through direct part marking. Known as 2DMI, this covert mark adds an extra layer of counterfeit protection beyond a barcode.
Under Cover Technology: Counterfeit Protection with a Unique Identifier
Direct part marking of proprietary 2DMI marks (like those via iTrace Technology), is a more covert, secure, and efficient solution to protect OEMs. Direct part marking provides the ability to track and trace individual units through their lifecycle and provide the proof needed to prevent false liability claims.
One manufacturer had tried other anti-counterfeiting strategies with no success and, instead, relied on their legal team to fight grey market or counterfeiting offences. Looking for a more proactive solution, they discovered the MECCO/iTRACE 2DMI integration. Unlike traditional barcode solutions, this technology is not open-sourced and so, cannot be reproduced illicitly. The manufacturer was able to protect their revenues and reduce exposure to costly service and warranty liabilities.
Benefits of MECCO/iTRACE 2DMI Integration
Covert:
Thanks to the flexibility of laser marking technology, discrete unique identifiers (UIDs) can be placed in even the smallest areas of a product or product parts. Mark size can be as small as 200 microns wide, so there is virtually no impact on product design.
Secure:
Laser-etched, encrypted, proprietary 2DMI marks provide essential traceability. Since each laser mark contains a unique serial number up to 15 digits long, they are extremely difficult to mimic. Each vector-based UID is stored in a track-and-trace database to identify the product source and also allow it to be reconstructed if it is ever damaged.
Efficient:
From production to any necessary legal enforcement, laser marking enables a more efficient process. It can adapt to a variety of different materials, so you can apply the same technology to different products throughout your manufacturing facility.

Marking takes milliseconds and does not interfere with production. The covert, database-linked marks make it easier to identify fraudulent products and simplify the legal process.
Your anti-counterfeiting strategy with direct part marking and 2DMI technology:
1. Marking: During production, a covert, secure UID is applied to each individual unit using the latest laser marking technology.
2. Tracking: Each unit is tracked and traced from production through distribution and retail.
3. Identification: OEMs can inspect products and identify retailers or distributors selling counterfeit or grey market goods.
4. Enforcement: Legal teams are armed with the evidence to cut off supply to those retailers or distributors and avoid liability expenses.