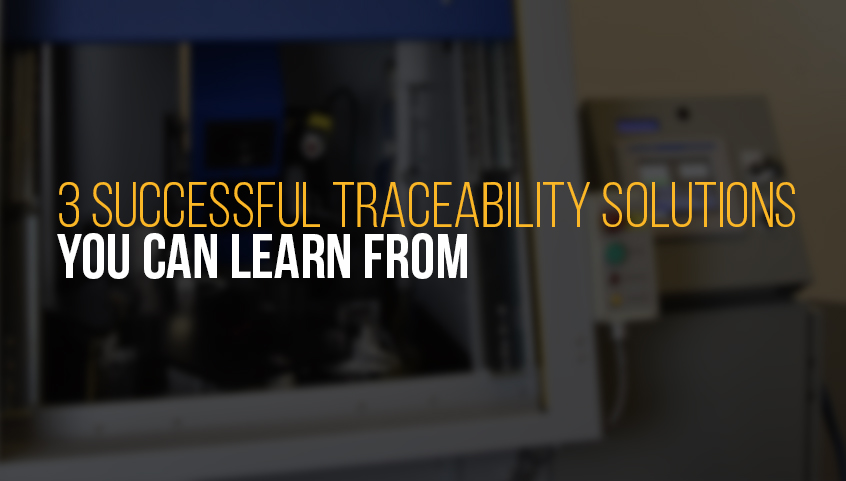 When you're in the market for a part marking solution – whether it's a stamping machine or laser engraver – it's rarely a cut-and-dry process. Typically, there are plenty of factors at play, from the type of facility you're manufacturing in, to the materials used, to your customer's needs.
What Do I Need My Marking System to Do?
If you're new to direct part marking or traceability, there might be a bit of a learning curve for discovering all of the specifications that you need to consider.
Some think that if they go with an off-the-shelf system with lots of bells and whistles, they're getting a great deal, even if they have to work with multiple vendors to make the system production-ready. There are marking equipment providers who will sell them on the idea that this machine, while it has more features than they need right now, will meet their "future needs" and end up being a good investment.
What's wrong with this idea?
Well, for starters, paying for features you don't need on the off-chance that they may one day prove useful is a more risky investment. It ties up a limited budget that could be better used in other ways. Plus, are there any side effects of these features? It would be a worthwhile exercise to examine what unnecessary complexities would be added by the features you don't need. That could have an impact on your system uptime and overall cost.
Apply Lessons from Existing Solutions
On the other hand, investing in equipment designed to meet your specific needs – and offers the ability to make updates as they become necessary – means that you always have a machine that works for you today, tomorrow, and five years down the road.
It's worth noting that just because you're configuring a system to fit your needs doesn't mean that you have to reinvent the wheel every time. Finding and partnering with a supplier that has experience building complete solutions means that you also benefit from their experience for your speed to implementation.
Here are three real-life examples of manufacturing companies who chose to invest in an engineered marking & traceability solution featuring laser etching technology. With a cost-effective turnkey system, you'll see how they were able to meet their goals as well as those of their customers.
Achieving Cycle Time & Barcode Readability Goals while Withstanding Harsh Processes
The Challenge: RCM Industries, a custom die casting company, needed a unique marking and traceability solution to serve their largest customer, a tier-one automotive manufacturer. Due to recent industry regulations, they needed to mark a unique identifier in the form of a data matrix. This barcode would connect to a database, which would allow for complete part traceability. Since RCM would add part marking into their die casting process, the marking system would have to integrate seamlessly with their existing manufacturing processes.
The Engineered Solution: RCM had three main technical requirements:
Durability to withstand the elements of their die casting manufacturing process

Fast cycle time to avoid slowing down their existing die cast operations

Consistent mark quality to ensure consistent readability, per their customer's request
After researching several equipment options, from ink jet to pin marking, RMC installed a SMARTmark Fiber Laser marking system, which would create the consistently high-quality mark their top customer demanded.
MECCO not only provided a configured, durable Class I enclosure but also complete integration. To date, RCM is still meeting their goals regarding mark quality and cycle times. The MECCO team continually collaborates with RCM, helping them to refine their marking processes and maximize system performance.
Automatically Verifying Laser Etched Data with an Integrated System
The Challenge: After realizing the increasing costs of quality issues, production bottlenecks, re-work and customer returns, Honeywell Aerospace conducted an analysis to identify the root cause. This led them to one process step that was common to a range of products, from valves to engine starters. That problematic process was product identification. So Honeywell began to look at how the part marking process could be improved, and they had a couple of goals in mind:
Boost accuracy of the data that is etched on the parts by integrating with their SAP software

Use a digital means of mark verification to avoid human mistakes around incorrect or duplicate data

Automate the tasks that are manual and slow down the process
The Engineered Solution: To automate tasks and upgrade their inspection capabilities, Honeywell Aerospace chose a fiber laser marking system that was configured to meet their goals.
MECCO's solution used a graphical user interface to automate manual tasks. With SAP-based barcodes generated by the new integration, the marking system could enable them to accelerate workflow, eliminate human errors, and free up operator availability.
Was Honeywell Aerospace satisfied with their solution? Here's what one engineer had to say:
"What really blows everybody away is how perfectly your system integrated with our database. Anyone who sees it is excited. Going into this project, the other companies we talked to just didn't get it. But MECCO understood where we were going and what had to be done."
Increasing the Sophistication of Laser-Etched Traceability
The Challenge: A multinational electrical-equipment manufacturer was tired of the years they spent investing substantial resources into fighting gray-market and counterfeit products. Their circuit breakers were being diverted into gray-market channels, re-labeled with falsified performance information, and sold at a higher price. This issue was causing lost revenues and potential service and warranty problems, as well as hurting their brand reputation and relationships with suppliers.
Their technical requirements included:
Eliminate easy-to-tamper-with or easy-to-remove labels and packaging without affecting the product's look and feel

Ensure quick identification of genuine but remarked or relabeled products, even if packaging has been removed and they have been installed

Boost capital-equipment value and ROI by augmenting the customer's existing install base of MECCO laser marking equipment
The Engineered Solution: A complicated issue like this required a multifaceted approach. The manufacturing company partnered with MECCO and iTRACE Technologies, integrating 2DMI software suite with a SMARTmark Fiber Laser marking system. Intelligent 2DMI data could be overtly and covertly etched into the parts' surfaces – and the results speak for themselves:
Fast—It can be deployed throughout the production line within hours.

Seamless—It integrates fully with the customer's systems.

Flexible—Even operating at high speed, it can handle a variety of products.

Affordable—It scales readily with the brand.

Economical—By eliminating conventional paper labels, it reduces unit cost.
We've said it before, and I'll say it again here: When it comes to marking systems, one size doesn't fit all. Actually, it's typically more cost effective in the long run to go with an engineered solution designed to work for you rather than a mass-produced model with features (and added complexity) you don't need.
Whatever your challenges – from readability to safety to counterfeiting – there's a marking solution that fits your goals.