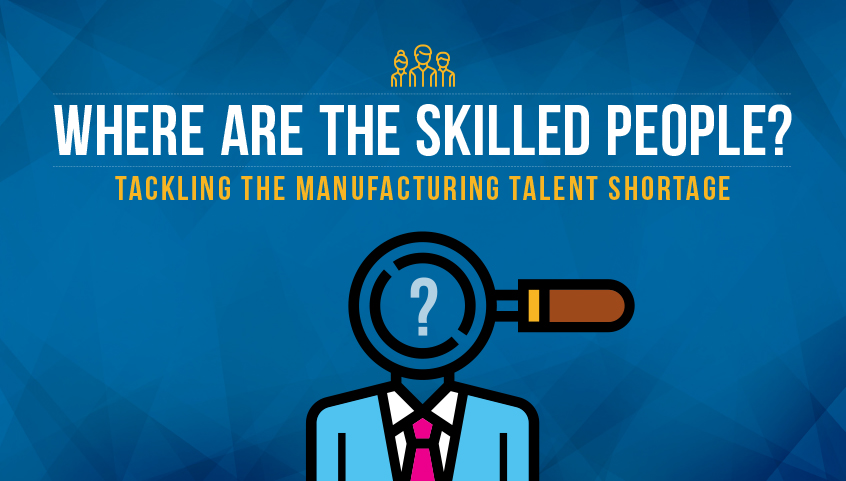 Does reading news about the "manufacturing skills gap" keep you up at night? Whether you're looking to hire manufacturing workers, get hired yourself, or hold onto your current job, it's true that massive changes in the industry are already affecting the in-demand manufacturing job skills.
From automation to artificial intelligence (AI), the "Fourth Industrial Revolution" is leaving its mark on manufacturers, giving companies the ability to produce and innovate like never before. However, this industry-wide evolution is also changing the way we work -- and the people who are needed to do it.
A new report from the National Association of Manufacturers states that, despite efforts to close the skills gap,
a record 522,000 jobs remain open
in the sector. This can mean new opportunities, but it's also leaving more manufacturers to face a similar challenge:
What job skills do I need to be successful in manufacturing?
(
You can download the infographic here.
)
Let's first take a look at:
How the industry got to this point
How these factors are influencing the most sought-after job skills in the coming years
How manufacturing companies can harness the talent they need to take them to the next level
How We Got Here: 4 Causes of the Manufacturing Skills Gap

As a manufacturing company that also works with other manufacturers, MECCO understands first hand how big changes in and around the industry can affect organizations. 130 years ago, we were producing stamps, and today we're engineering some of the most high-tech marking and traceability solutions in the industry.

To succeed, companies need to keep moving forward. These forward-thinking operations know that they need people with the right skills that meet the needs of the manufacturing operations of the future. In order to do that, it's important to understand how we got into this dilemma in the first place.
1. More Companies Adopting Technology and Automation
It's an amazing time in manufacturing because technology is giving us the power to do things that weren't possible even 20 or 30 years ago. Automation helps us reduce waste, cut costs, improve safety, and do more in less time.

And I mean, what can be more exciting than robots, right?

Today, as much as 50 percent of companies have adopted some level of automation into their factories, whether for a more seamless automated inventory process or to combat counterfeiting risks.


It's true that, as more companies implement automation, some jobs roles are shifting. While they may have traditionally required hands-on, manual labor, many more jobs will call for problem solving, tech-focused brain power.

The big concern is, will we see major job losses as the industry continues to evolve?

The answer is no, according to many experts. One 2018 report found that open manufacturing positions have been growing at double-digit rates since mid-2017, and are about to reach peak numbers recorded in 2001. Last year, despite countess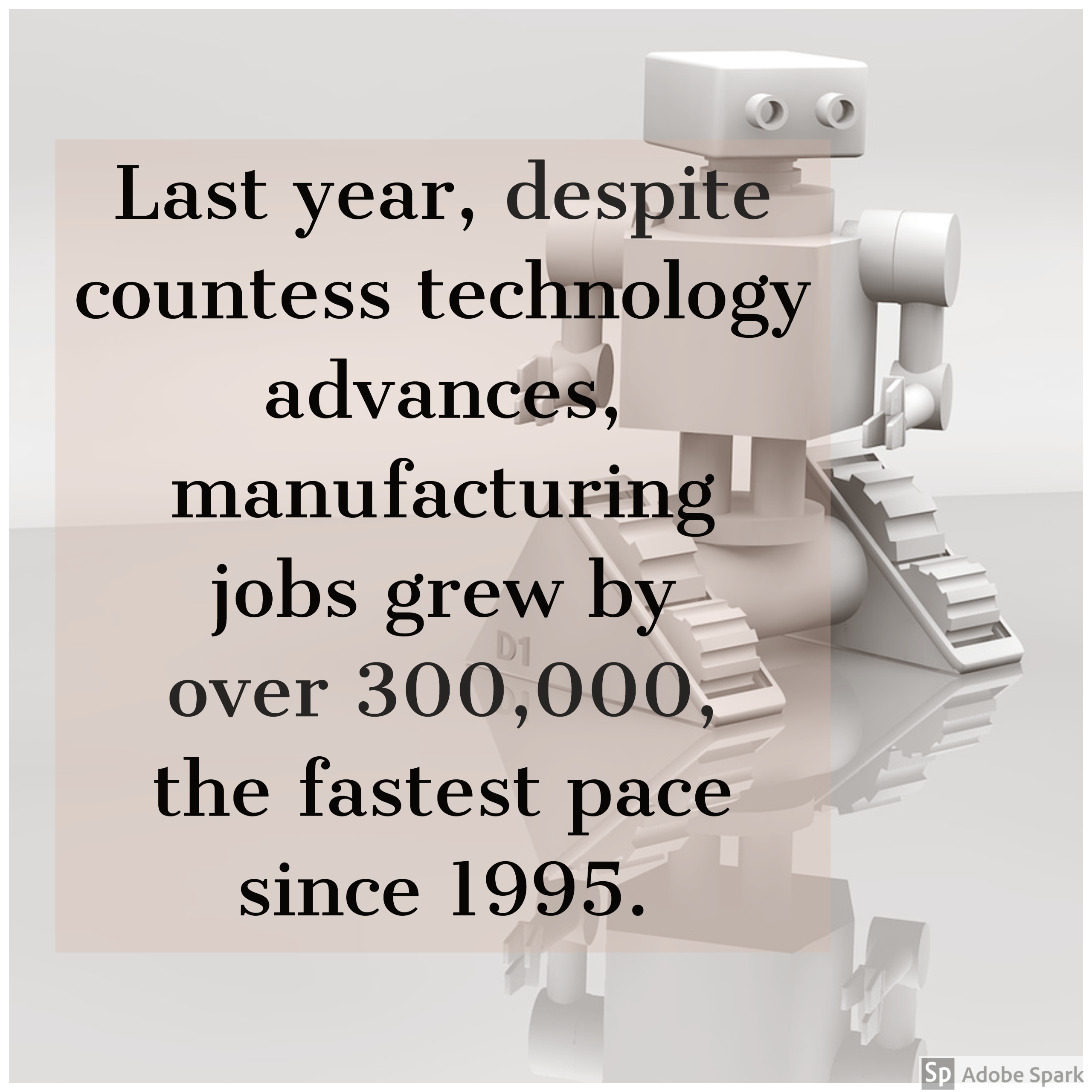 technology advances, manufacturing jobs grew by over 300,000, the fastest pace since 1995.

That's not to say that change can't be intimidating. However, this isn't the first time the industry has dealt with a revolution. In 1913, the Ford Motor Company transformed work with their production assembly line, and throughout the twentieth century, the U.S. and Japan continued to develop industrial automation technologies. For these changes to take place, many job duties had to change as well. But if it weren't for these pioneering advancements, who knows where we'd be today.

In a modern world where production demands are high, skilled people are needed if companies want to meet their goals. Technology is making it easier for them to get there.

2. One Generation Out. Where's the Next?
Just as technology is turning the industry on its head, millions of people are leaving manufacturing jobs. More than 2.6 million baby boomers are expected to retire in the next decade, many of them in management positions. With fewer younger people entering the workforce, this leaves a huge shortage. Companies are having to invest significant time and other resources into hiring. The average is 94 days to recruit engineering and research employees and 70 days to recruit skilled production workers for manufacturing positions.

However, it's not only a matter of filling those open positions. Retiring workers are also taking with them years of institutional knowledge and "tricks" to making operations run more smoothly. Unfortunately, this is know-how you can't get from any text book.

As one generation exits the industry, new hires are increasingly harder to find for two main reasons: one is that there is an overall negative perception of the manufacturing industry, and the second is that there are less and less qualified people in the pipeline to fill vacant jobs.
3. An Industry with an Image Issue
The manufacturing industry may be fighting an uphill battle when it comes to recruiting new talent. Younger people, as well as their parents, tend to share the misconception that manufacturing is dull, dirty, tedious work. In a Deloitte report, less than half of Americans surveyed believe that jobs in manufacturing are "interesting, rewarding, clean, safe, stable, and secure."

As a result, some parents are nudging their children away from a manufacturing career path. According to the National Association of Manufacturers and the Manufacturing Institute, "only three in 10 parents would consider guiding their child toward a career in the field."

Yet, if they knew about all of today's advancements in the industry, it could change their thinking. Manufacturing has "some of the most technologically advanced, high-value jobs on the market," says Sandi Bouckley, CEO and Executive Director of the Society of Manufacturing Engineers.
4. The Growing Skills Gap

Advancing automated technologies, the huge mass of retiring workers, and fewer qualified people perusing manufacturing careers all add up to a wider and wider skills gap. One study estimates over two million unfilled jobs between 2018 and 2028, with a potential 2 trillion in economic impact.

Many of yesterday's manufacturing skills aren't going to cut it when it comes to running the robotics and computer-connected equipment, like MECCO's EtherMark technology, that are growing more popular in modern manufacturing facilities. Companies will need more employees who understand these technologies – or those willingness to learn through training and education –to succeed in the Industrial Internet of Things (IoT).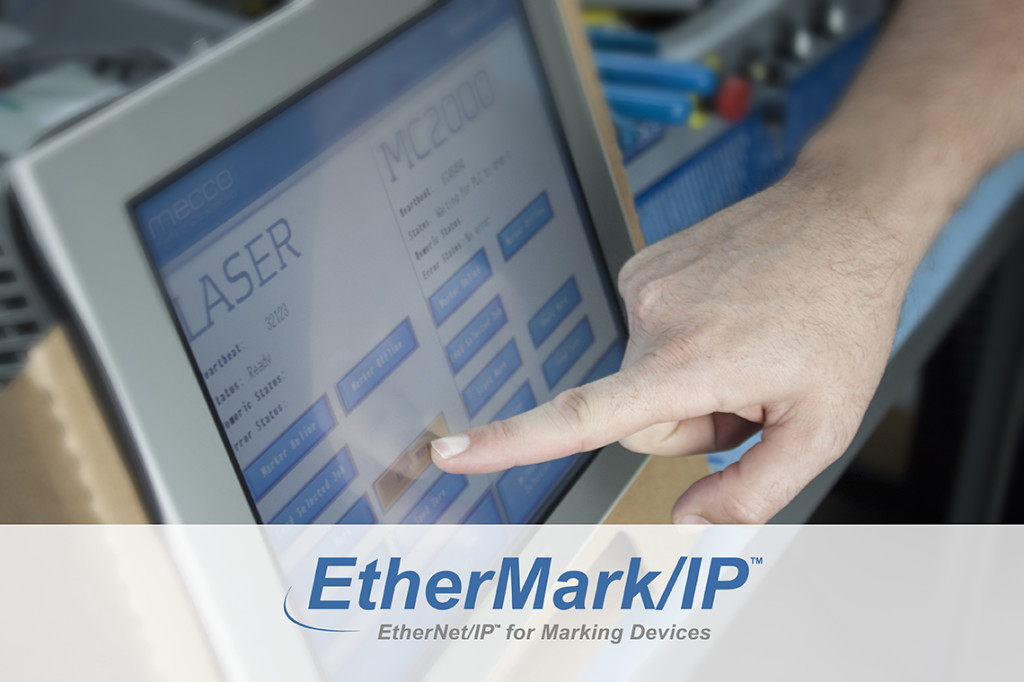 With negative perceptions of the industry, we're also seeing fewer younger people interested in pursuing manufacturing- and STEM-related education. This is especially true among young women. In 2014, only 7.9 female college freshmen intended to peruse STEM-related majors, and over 32 percent of college women switch out of their STEM degree programs before graduation.

The talent shortage has reached a critical point. In one study, 89 percent of executives in the US manufacturing sector report a talent shortage, which is five percent higher than 2015. It's affecting their bottom line as well, citing "their inability to maintain or increase production levels to satisfy growing customer demands" as their top challenge.

What Manufacturing Skills Do We Need in the Future?
The current state of the industry has prompted many companies to create new job roles only to watch them sit unfilled because the right talent isn't there to fill it. This gap opens new opportunities for those looking to begin their manufacturing career or stay relevant in their current job.

Automated manufacturing is here to stay, and will only continue to grow and evolve. Does that mean that we're facing a "lights out" future where humans are obsolete and robots run the world (or at least the manufacturing floor)?

No, at least not in our lifetime. According to many experts, human beings will still play an integral role in manufacturing as long as we continue to evolve too.

At the 2018 Rockwell Automation PartnerNetwork™ Conference, workforce challenges ranked as a top concern among attendees. Chairman and CEO Blake Moret responded by acknowledging that, "Technology alone won't save us. It requires people to stitch it together."

So for humans and machines to coexist, what skills do people need?

Technology / computer skills
Employees will need to have at least a baseline understanding of computer technology and may also understand how to use it to design and manufacture products. These include computer-aided design (CAD) software like AutoCAD often used by engineers.

Digital skills
As companies adopt new, digitally-enabled approaches across their operations, people with digital skills will know how to work with data and AI-connected systems.

Programming skills for robots / automationAutomated robot technology requires a professional who can monitor robot performance and provide feedback to programmers to optimize its value. They may even be expected to take on a robot teaming coordinator (RTC) role, which ensures a successful cobot working environment where robots and human work together collaboratively.

Working with tools and technology
Workers will need to be able to learn and interact with technical equipment and a number of digital tools that support productivity and decision making.


Critical thinking skills
This uniquely human skill must be present along with technical skills to troubleshoot issues as they arise and ensure smoother operations. Leaders and workers alike will need to grasp these new working methods, as leaders will spend less time ensuring that jobs are completed and more time coaching staff to solve problems.

(Bonus!) Ability to adapt to new tech
We can't overlook that one of the most exciting parts about the future of manufacturing is that it's continually being created. Since we never quite know for sure what's around the corner, the ability to adapt to new technologies is a must.

"It is almost impossible to predict what will be the norm six months from now," Arthur Pereless of Pereless Systems said in Forbes. "Someone who is constantly learning will be very successful in the future of this unpredictable field."
How to Tackle the Talent Gap
If there's one ability that the manufacturing industry has always had, it's tenacity. The industry is already taking enormous steps to solve the talent shortage issue with both short-term and long-term solutions, some with more success than others.
Ideas for Short-Term Solutions

One short-term remedy that seems like a no-brainer is to offer pay increases and signing bonuses to skilled candidates. In 2018, 78 percent of surveyed companies reported offering higher wages to attract talent, according to Deloitte. However, this can be a double-edged sword as 66 percent saw workers leave after accepting higher-paying positions at other companies.

More companies are also relying on outsourcing work to close up the talent gaps. More than 40 percent said they had a "strong affinity" toward hiring contract workers. Though they may be missing out on opportunities to develop long-term skilled employees and strengthen their company from within.
Other operations are trying out more flexible hiring procedures. Rather than searching for candidates who check every box, managers are re-prioritizing their requirements and instead looking for trainable employees who can adapt to new technologies and working environments.
Thinking Long Term
As the hiring process changes, companies are looking more toward formal and on-the-job resources to train and educate their employees to prepare them to operate technologies. One power tools manufacturer, Stihl, uses this approach to broaden its pool of candidates while also positioning itself as an employer that invests in its workforce.

At MECCO, we help educate our customers and their employees by performing onsite and offsite training. Typically, I see more training requests from companies as they're implementing higher levels of automation-enabled systems. Since the majority of our automated laser marking and pin marking systems require human intervention, we focus on training three main levels of staff: operators, engineers, and maintenance. Operators are usually responsible for loading and unloading a system (and are able to perform other tasks in between); an engineering level person manages files and programming for the system; and then maintenance personnel perfoem important upkeep on the systems.
Find MECCO training and support resources.

Another growing trend we see is companies leveraging the experiential knowledge of their aging workforce.

In one example, BMW wanted to incentivize their long-term employees to stay with the company. The automotive powerhouse invested in retrofitting their German factories to better accommodate their employees' needs, like adding more ergonomic options, in what they called the "Today for Tomorrow" project.

The advantages of having experienced workers on the job can have significant effects. When BMW paired older workers with younger workers on the assembly line, they saw a seven percent increase in productivity.

Airstream, a travel trailer manufacturer, also saw positive results from mixing generations of workers. "[Millennials] now make up more of our workforce than any other group," said a company spokesperson. "The millennials seem to really appreciate the more tenured folks teaching them how to do it, and the older folks have really looked to the millennials in trying to think of ways to do things differently."

This success explains why some companies are hiring their retiring employees as consultants to help pass their knowledge onto the next generation.

Another way manufacturers are closing the gap is by tapping into the up-and-coming talent. Partnering with vocational schools, high school and middle schools, and offering internship and apprenticeship programs helps to spread awareness about manufacturing career options and get young people excited about the opportunities.

MECCO is proud to partner with schools around our southwestern Pa. headquarters. Here are a couple of the recent activities we've been a part of:
Manufacturing companies can do their part to show students that STEM fields can be fun and expose them to the wide range of career opportunities available in the industry.

Where We Go from Here
It's clear that our industry is facing real challenges, but hiring managers and job seekers alike can be prepared. With education, training, awareness, and, of course, perseverance, these essential skills and tactics will see that manufacturing thrives well into the future.

Getting the right skills for tomorrow's manufacturing jobs is possible, finding solutions to close the talent gap is ongoing. What skills do you think are most valuable?