Dot Peen marking or engraving is a pin marking application that allows manufacturers to make deep, permanent impressions in a variety of materials for identification and traceability. Also known as "pin marking," "dot peening," or "pin stamping", this fast, efficient marking process involves a carbide or a tungsten carbide pin that directly impacts a material to create a mark.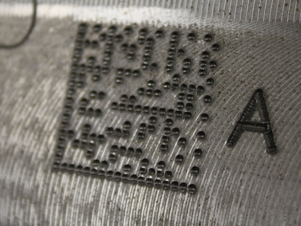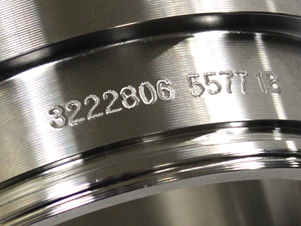 Watch Dot Peen and Scribe Marking Videos.

When programmed, dot peen machines can permanently mark both human- and machine-readable information such as:
Date/time stamping
Part serialization
Logos
2D Data Matrix bar code
Operator identification
Benefits of Dot Peen Marking
Unlike traditional marking processes like hand stamping or punch and die, automated dot peen marking is well known for delivering 1)
high-speed marking
and 2)
deep, permanent engraving capabilities
. However, there are additional incentives for manufacturers to use this powerful, effective marking method.
Durable permanent marks that can withstand tough environments
Downhole drilling, painting, galvanizing, and lifetime use -- No matter what tough conditions your parts need to withstand, MECCO's dot peen marking machines are engineered to make critical identifying information remain on your product, for the life of that product.

High-speed operations
On a busy production floor, it's not just every minute but every second that counts. In tests, MECCO's SuperFast Pin Marking Machine marked over 65% faster than a competitor's machine.




Tests show MECCO SuperFast Pin Marking Machine marks over 65% faster than competitors.



Electric or pneumatic options
Unlike electric models, pneumatic dot peen machines require the use of compressed air to move the stylus and create a mark. MECCO offers the convenience of both options, so you have the flexibility to choose a machine that fits best into your existing space.

Portable design
Handheld dot peen options are ergonomic and lightweight. A pistol grip hand allows users to easily position the machine for safe, accurate marking, especially onto large or immobile surfaces.

Marks metals and some hard plastics
MECCO's dot peen marking machines can mark materials with a hardness level up to 62HRC. Apply permanent serial numbers, 2D Data Matrix codes, logos, and other identification or traceability information to a wide variety of products.

What is the Difference Between Dot Peen and Laser Marking?
While both dot peen marking and laser marking are direct part marking methods that create permanent, readable marks on a wide variety of materials, there are many differences between these technologies.
Before you
choose a marking technology
, you should consider a number of important factors, including:
Barcode location
Connectivity to the factory floor
Environment
Part surface quality
Taking the time to find the right solution can save costs as well as frustration. Look for a
dot peen marking solution provider
who will work with you to determine the best equipment, the best application, and the best software.
Read more about Laser Marking vs. Pin Marking.

How Does a Dot Peen Machine Work?
Dot peen machines work by using a single pin to mark materials with customer-specific information.The result is a specific dot pattern that creates deep characters (serial numbers, batch numbers, date codes, etc.), logos, and codes (Data Matrix). ​

You can chose from various models of dot peen machines, depending on how the machine will be used. MECCO's models include:
Integrator (U-Model)
Benchtop
Portable
Hybrid/Combo
The video shows how a portable dot peen model allows the operator to easily marks a round part.
Dot peen machines can be powered either electrically or pneumatically. A stylus strikes the material as it moves across the part. The stylus is controlled by either:
An X-Y belt or
Through MECCO's patented pivot technology that moves the stylus back and forth across the marking area.
MECCO's stylus can be used to create a traditional dot peen mark or a
Vibra Peen mark
which is most comparable to an engraving.