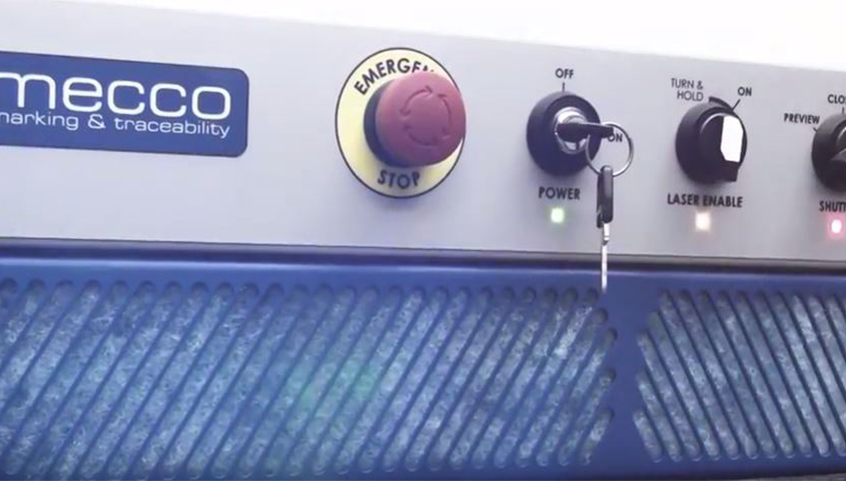 Mecco announces its new MeccoMark Fiber Laser with EtherNet/IP, a refined marking system focused on simplifying integration and usability.
Featuring EtherMark: EtherNet/IP for Marking Devices, laser marking devices now have the ability to communicate directly with a programmable logic controller (PLC) via EtherNet/IP.
Save time and money with the first technology solution that eliminates custom programming of PLC's. Our laser reduces the time required for integration from 80+ hours to as little as 8 minutes with the add-on profile. The communication process is simplified to only one command by the PLC for loading, configuring and marking a job file.
The new MeccoMark Fiber Laser still delivers the same high quality logo, text, serial number and bar code marking you've come to expect from Mecco, but with an advanced feature set to make your work easier.


New MeccoMark Fiber Laser Features:
The laser unit is sealed to protect the internal components in industrial environments. The 3U 19" rack-mount control box has an integrated filter pack, and an LCD display with enhanced system diagnostics. Its LEC-embedded technology allows you to store files locally without a computer for some applications. The system has a streaming mode with a PC that allows it to be controlled remotely using COM and remote interface. For the embedded mode, the system can be controlled via PLC using EtherNet/IP or Remote API directly to the laser board.
The real-time visible live pointer is another key feature that makes job setup easier. This interface for previewing your mark will minimize setup time, using a red pointer that moves in real-time so that you can see the results of adjusting position and size.