Laser marking machines are used in a dynamic, highly adaptable process for the following:
High-speed character
Logo
Graphic

Bar code

2D Data Matrix marking
Laser engraving or marking is highly readable and leaves a permanent mark that enables effective traceability.
SMARTmark® Laser Marking Systems provide a range of solutions for marking on a wide variety of materials, using methods such as:
Engraving
Carbon migration
Annealing
Layer removal
Discoloration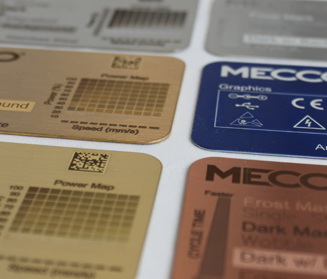 Depending on your application, you may require a fiber, CO2, or diode-pumped laser.
Fiber Lasers are versatile marking systems that mark the widest variety of parts, including:
Steel

Stainless steel

Aluminum

Copper

Titanium

Plastics

Cast aluminum
They use an optical fiber doped with rare-earth elements such as ytterbium.
For a lower wattage laser that specializes in brighter, crisper marks on plastics and aluminum, MECCO offers a unique diode-pumped laser with patented diodes pumping YAG Crystal.
This type of laser uses a higher peak power to removes paint, anodization and oxide 25-50% faster while brightening the base material significantly.
The CO2 Laser is a carbon dioxide continuous wave laser that is ideal for marking wood, glass, plastic and rubber.