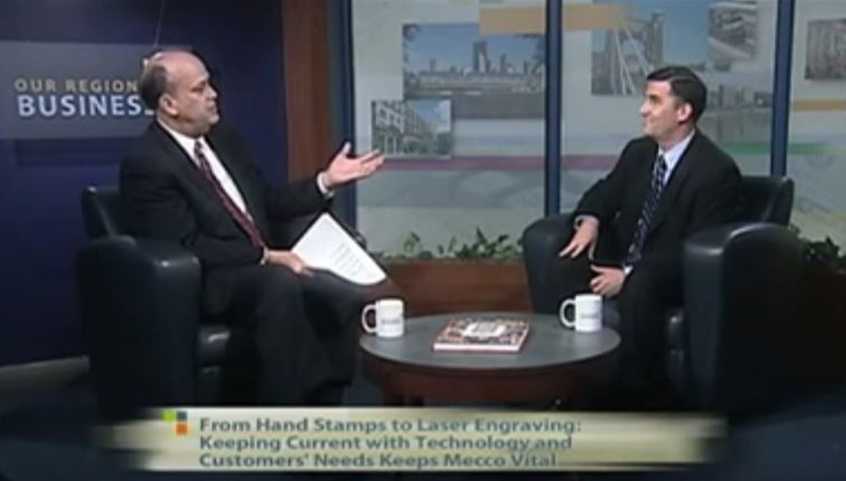 Dave Sweet, President of Mecco Marking & Traceability, recently appeared on an episode of Our Region's Business, a Sunday morning business affairs television show for the Pittsburgh area, to talk about the long history of the company in the region.
Airing on WPXI-TV, Sweet talked to host Bill Flanagan about the industrial marking equipment that Mecco has manufactured over the years, from hand stamps to marking lasers. In the midst of Mecco's 125th anniversary, Sweet also discussed how the company needed to adapt after the decline if the steel industry in the area. That ability to adapt, Sweet said, was a key reason for the company's longevity.

Building a History by Helping Customers
"The reason for our longevity is our ability to look out at what our customers are looking for, what the market is driving us towards, and offering innovative technologies. Even when we were doing hand stamps, the things we were doing at that time were unique to the industry and they served certain parts of the market where safety was a concern," said Sweet.
In the late 80's, Mecco looked towards automated marking technologies to replace the traditional line of hand stamping products. The transition began with developing the first dot peen marking system, and was followed by laser marking systems.

"A lot of our manufacturing team has actually been there for 30 plus years. So they're marking experts," said Sweet. "I didn't need to teach them how to mark and apply marks. What I needed to teach them was how to build laser technology and laser systems. And that went very well at the beginning and certainly as we've tripled the size of our company over the last four years, we've added a lot of new folks on that bring a higher level of technology from the start."
That merging, Sweet says, provides a lot of value for Mecco's customers.
"It's been a real nice evolution of folks that have been with the company for a long time who have adopted this new technology and new folks that are coming in with fresh ideas. It's been a nice merger of generations of engineers," said Sweet.



Looking to the Future
With 125 years under Mecco's belt and recent years of growth, Flanagan asked Sweet if Mecco was anticipating continued growth.
"Absolutely. Our plans for the next 3 to 5 years, we know we can double the business. And again, that's after tripling it in the last four years," said Sweet.
"We just released new technology that the industry does not have and we feel that's a key catalyst for us to continue our growth. It's the Mecco way: look at what your customers are doing, ask them "what is it that you're not getting," and go out and design it and build it. That's the tradition that we carry and it's going to carry us to the future."
View the full interview on the Our Region's Business YouTube.