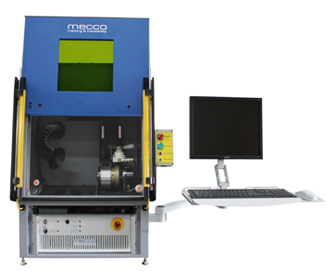 Pneumatic Doors
Optional pneumatic doors come with many options to fit your needs. In addition to the air-powered lifting mechanism of the door, we can configure the door to automatically open when a job completes or open when a foot pedal activates it. For operator safety, the pneumatic door includes a light curtain or bumper bars to ensure no accidental injuries from a closing door.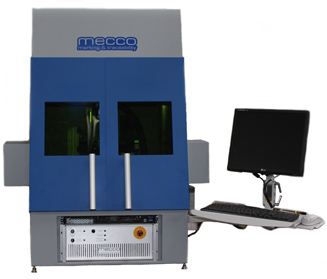 Pass-Through
Adding a pass through to your enclosure provides a way to mark parts that are too long for the enclosure while still maintaining a small footprint and laser safe environment on your production floor. These pass-throughs can be used to incorporate a safe way to mark parts on a conveyor belt.
Side Door
Add a side door to an enclosure for easier loading and unloading of oversized parts.
Side doors are also helpful in rotary workstations so that you can view the back of the rotary table.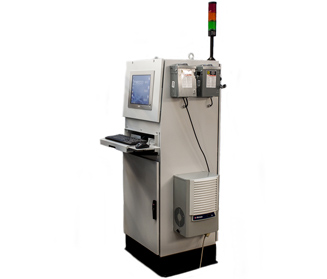 NEMA Enclosures
Used to protect laser controller and computer components from hot and very dirty work environments. Add an air-tight, clean environment enclosure to your system and extend the life of your laser. MECCO makes enclosures that range from NEMA 1 to NEMA 12 to protect the laser controller and computer components from hot and dirty work environments.

NEMA Enclosure Cooling Options:
Economy Model: Vortex cooler that cools by using compressed air
Enhanced Model: A programmable AC unit with digital thermostat protects the laser by shutting down if the ambient temperature is over 105° F