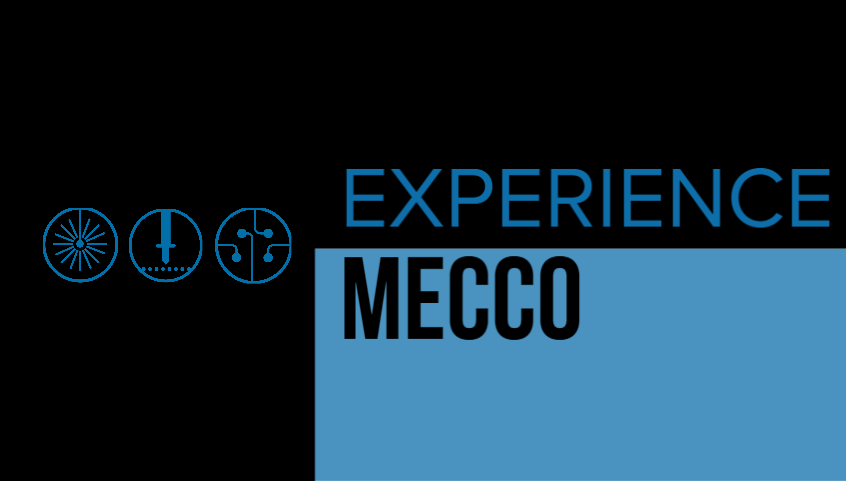 2020 has been quite a year so far. While a LOT has changed, one shift you've probably noticed is in manufacturing industry trade shows. Just as everything from business meetings to birthday parties have gone virtual, so have trade shows.
Problem is, you look to these in-person events for a first-hand look at the new technologies, learning opportunities, and face-to-face meetings to discover the latest-and-greatest solutions for your company – solutions you take back to share with your team.
But, just because your trade show plan (along with so many others) have had to shift this year doesn't mean you have to miss out on those opportunities.
We say, forget barriers and limitations. Use this chance to push your business forward. September 22-25, 2020, we're hosing our first-ever virtual trade show
Experience MECCO
. This is a free event with live learning sessions, 1-on-1 demos, and exclusive deals.
We know your time is valuable. Here are a few reasons why Experience MECCO is worth it.

It's a 100% virtual trade show, so it's safer and more convenient.
In-person trade shows have their benefits, but let's face it, we're in the midst of a global pandemic here.
Safety and convenience are both areas where virtual trade shows get bonus points. Experience MECCO is an all-virtual show, meaning no stress about traveling or social distancing. You can even talk to laser and dot peen experts via our 1-to-1 demos and you're encouraged to ask questions during any of our online learning sessions.

It's also 100% free to attend.
How much money has your company spent attending trade shows in the past? Add up registration, travel, hotels, food, and other related expenses and you have a fairly large bundle of cash (which you could probably use for other projects right about now, right?).
Our virtual trade show is free. That's right, free. As in no cost for any of our 5 informative webinars or custom 1-on-1 demos.
Oh, and you also get an exclusive discount on one of our latest marking technologies just for attending any one of Experience MECCO's online events. Plus, you don't need to go through the usual budget approvals.
Talk about a
win/win
.
You get a first look at some of our latest laser and dot peen marking technologies.
One great thing about trade shows is seeing all of the "cool" new gadgets and learning how they may be able to help you meet your goals.
Well, you can do that here, too. Get an in-depth look at the latest in marking technology, including:
When you sign up for a demo or webinar, we'll send you details on how to cash in on a show-only discount.

The live webinar lineup is packed with great, usable content you can apply to your next project.
Learn about the latest technologies to optimize your operations to be more efficient, profitable, and competitive. It's virtual learning at its finest.
Laser Markers: How to Get the Biggest Bang for Your Buck
Tuesday, September 22 | 10 a.m. EST
Rose George, a MECCO Sales Engineer, will talk about why the right laser marker can save you money and even break it down cost by cost.
The Ultimate Dot Peen Challenge: How to Go Deeper and Faster
Tuesday, September 22 | 2 p.m. EST
How do you get dot peen marks that withstand post-processing and heavy use? MECCO Sales Engineer Rose George puts top machines to the ultimate challenge.

Mark Your Way to the Factory of the Future
Wednesday, September 23 | 10 a.m. EST
Any factory can be a Smart Factory. You just need to know where to start. Scott Cunningham shows how to build a scalable system with a wide range of product options.

Ask an Engineer: Your Toughest Laser Marking Dilemmas Explained
Wednesday, September 23 | 1 p.m. EST
How can I mark that? What's the key to getting the best results? Applications Engineer Josh Christly has your answers and more in this info-packed Q&A.

Stand Out: Latest Innovations to Gain that Competitive Edge
Wednesday, September 23 | 2 p.m. EST
Discover what's new and how you can harness the technologies you need to out-mark and out-do your competition with MECCO Sales Manager, Scott Cunningham.
You can ask your questions and book a 1-on-1 marking machine demo to get customized feedback.
Have a project you need solutions for now? Do you like free giveaways? You can
book a live 30-minute 1-on-1 demo
with our experts.
You'll meet with one of our Sales Team members, Rose George, Brian Morgan, or Michael Davis. They specialize in finding laser and dot peen solutions for customers around the world based on their material, application, and operations.
And, if you thought trade show freebies were out of the question this year, think again. After your demo, we'll mail you free custom-marked swag.
Since we don't believe in one-size-fits-all solutions, you can use this opportunity as a launching pad to explore deeper and let our team help find the best system for your unique needs.
Space is limited, so register for Experience MECCO free virtual trade show today.