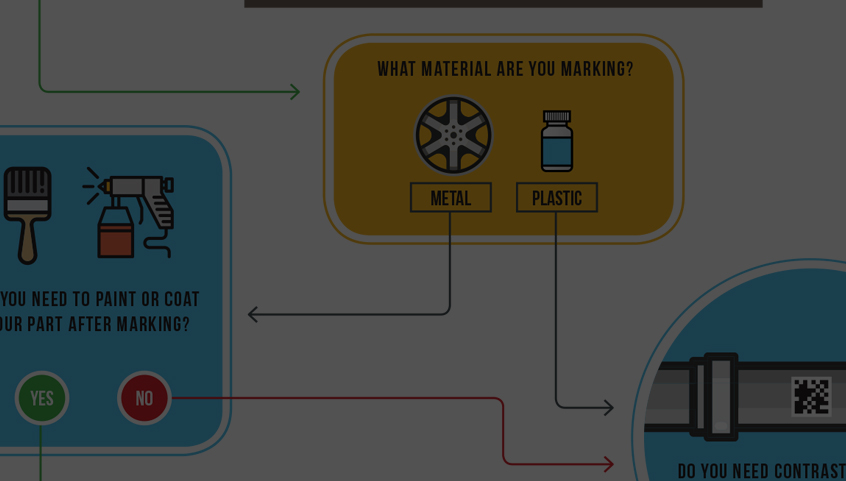 If you manufacture products or components, it's important to track and trace them throughout their lifecycle. Today, OEMs need to verify processes and protect brands from counterfeiting. But the question is: How do you choose the right marking and engraving technology for your specific application?
The truth is, marking solutions are not one-size-fits-all. There are a number of factors that go into choosing the best technology for your particular application.
Before you invest in laser or dot peen marking equipment or non-permeant solutions such as ink jet or labeling equipment, here are some of the fundamental factors to consider that will help you select the best marking technology:
DO Consider Materials: What material are you marking on? Material makeup, size, and shape all affect the type of marking equipment to use.
DO Factor in Coatings: Do you need to paint or coat your part after marking? These processes can affect mark readability if not addressed properly.
DON'T Underestimate Contrast: Do you need your mark to stand out for visual or automated verification? Different marking systems create different levels of mark contrast on materials.
DO Consider Depth Requirements: Do you want to reach a depth greater than 0.003"? Some equipment is better suited for deeper marking.
DON'T Sacrifice Resolution: Do you need high-resolution brand marks? Certain equipment can create sharper, more readable marks.

Ready to Find Your Solution?
The right marking technology can increase efficiency, boost your productivity, and provide a positive ROI. But off-the-shelf marking equipment cannot compete with a configured solution based on your unique traceability needs.
To find the best solution for you, work with a marking technology professional with a wide range of experience and expertise. Get started today and discuss your project requirements with a MECCO expert.