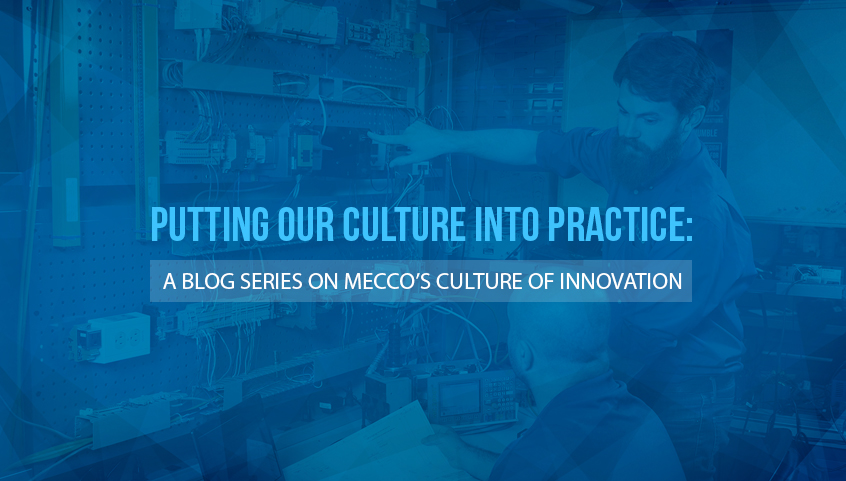 A Blog Series on MECCO's Culture of Innovation
What defines a company's culture? Ask ten people this question and you're likely to get ten different answers. Some will tell you that the culture is characterized by a company's history, while others will say that it's about the product or service the company provides. However, dig deeply, and you'll find a common thread: culture matters, and it's a direct reflection of the individuals who create it and carry it out.
Yet a company's culture does not simply occur on its own, nor does it happen in a vacuum. No matter the industry or service, culture is a direct window into the team members who comprise a company. And in order for a company to perform at its best, it needs to have a culture that is guided by sound principles and behaviors that team members can agree upon, feel connected to, and stand by — no matter the circumstance.
When commenting on company culture, Tony Hsieh, the CEO of Zappos, states: "We believe that it's really important to come up with core values that you can commit to." At MECCO, we agree that a company's culture — including our own — is only effective when it can clearly be articulated, committed to, and put into practice. Consistent practice. That's why we took two steps to ensure that our culture is as rock solid as the people who built it: our team.
First, we asked ourselves "What is at the core of our culture?" and determined that it can be defined in one word: innovation. We're driven to forge innovative relationships that yield innovative solutions for our customers. Second, we identified a set of nine core behaviors that represent our culture and values, and ultimately define what it means to be a member of the MECCO team.
Sharing The Story of Our Culture
"Align with Nine" represents a guiding principle at MECCO: to live our nine core behaviors and values each and every day. We're passionate about our culture. And we firmly believe that in order for all of us to fully live our values, we must share the story of our company culture.
Over the next few months, we're devoting a series of blog posts to how we "align with nine." You'll hear from a wide cross section of MECCO team members, from engineers to market development specialists, sales directors, and more. Our President and CEO, Dave Sweet, will also weigh in with his thoughts on our culture, sharing how it keeps him focused and grounded. "Our culture is about behavior," says Sweet. "What we've identified are not aspirational goals. They're nine behaviors that reflect how we treat our customers and each other."

MECCO's Culture: A Bird's Eye View
We're staunch advocates for applying care and consideration to everything we do. Codifying our culture was no exception. We thoughtfully and deliberately designed our culture to drive the innovative relationships and innovative solutions that define MECCO. The result: nine actionable, goal–oriented, and customer–centric behaviors.

Each member of the MECCO team, no matter his or her role, is guided by the following principles: 1. Provide Innovative Solutions; 2. Create Win/Wins; 3. Respond with a Sense of Urgency; 4. Build Open and Honest Communications; 5. Lend Hands to Your Team; 6. Be Humble; 7. Pursue Personal & Company Growth; 8. Design for Success; and 9. Be Two Steps Ahead.
We're excited to devote a blog post to each behavior and take a deep dive into our culture. It's what defines us, and it's our North Star for how we deliver to our customers. "What our customers buy is MECCO. They buy the team. We're one hundred percent the culture," says Sweet. "The best machine we've ever built is MECCO." All of us at MECCO couldn't agree more. We're excited to share our story. Please tune in later this month, when we discuss what it means to live Behavior #1: Provide Innovative Solutions.